Micke Westberg, multiple winner of Street Week Sweden, runner up in Dragweek 2022 and winner of Sick Week, Florida 2023.
He geared up from his old S10 and bought Anders Edhs old Top Doorslammer Camaro 67.
Anders ran the Camaro with screw blower with an injector coming up through the hood.
Micke was interested in keeping his EFI Turbo setup from his old car and was in no need for the hole.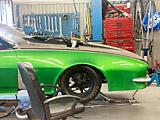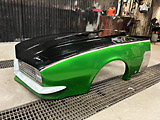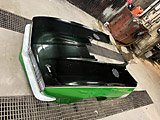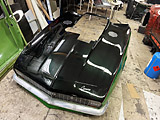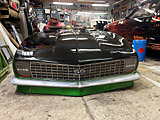 The front on this car was rather tilted which made the engine needed 11 cm for clearance.
There were no ready solutions for this kind of jobs for sure.
I started making a center piece in a mould I had for Camaro 68.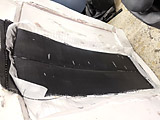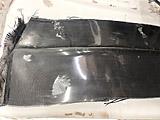 I put a stool in the middle of the front and stacked some logs to simulate the engines height.
I test mounted the part I had just made but it was way too short making it look stupid and narrow.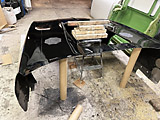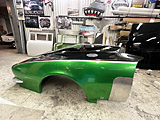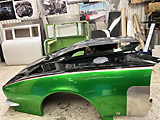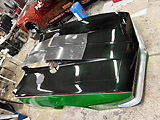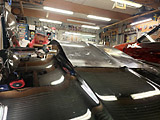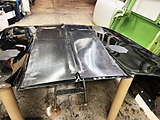 I cut the front end up as far as I dared trying to lengthen the scoop. The idea was to only make the scoop a part of the hood.
With my part attached to the loose parts of the front it started to work out better.
Now this became a LARGE and long scoop but I felt it worked out pretty descent.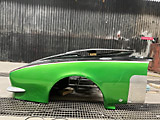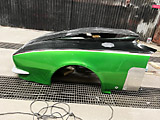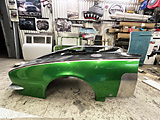 I filled the gaps with aluminium plates and tape, put the front on its back and laminated the gaps with more carbon.
To simplify it...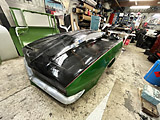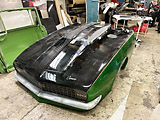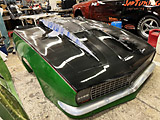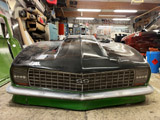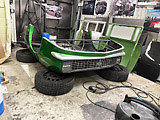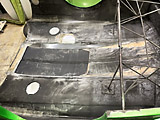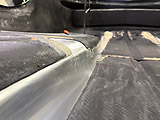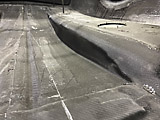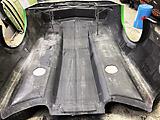 I got really pleased when I saw the pattern match event if it will never be seen.
The goal is to make all edges as smooth as possible which means all will be covered in putty and paint.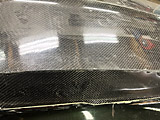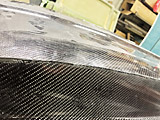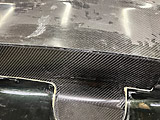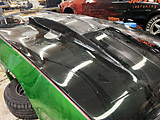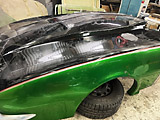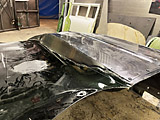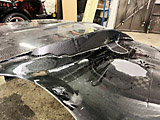 Putty yeah. First layer of putty was epoxy mixed with micro glass balloons.
That will bond all loose carbon and it will never sink like normal putty will.
After that first layer I ran regular fibre glass putty.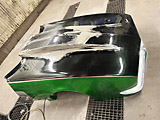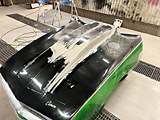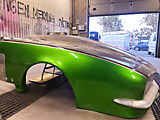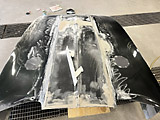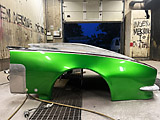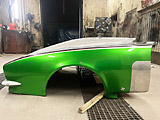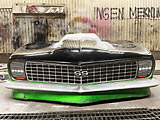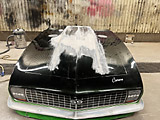 I'm no expert in neither putty or grinding so instead of trying to make a perfect result
I just made it workable and then its better if a pro finishes the job.

I ran into Micke at Tierp in August.
Some work remains until it looks perfect but by far good enough.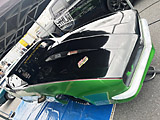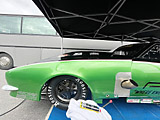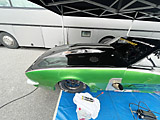 Do I have to mention he won Street Week Sweden 2023 with this car?
Well, he did.
Congratulations Micke!