It has become somewhat of a yearly tradition to visit America and Gainesville to watch the season opening of NHRA Pro Mod season.
This time it was me, Olof Andersson, Micke Gullqvist, Åsa Johansson, Micke Johansson (not married to Åsa),
Emil Johansson (also not married to Åsa), Pekka Lampinen and Kekka traveling as a group.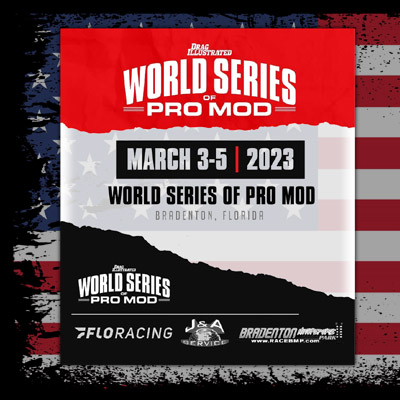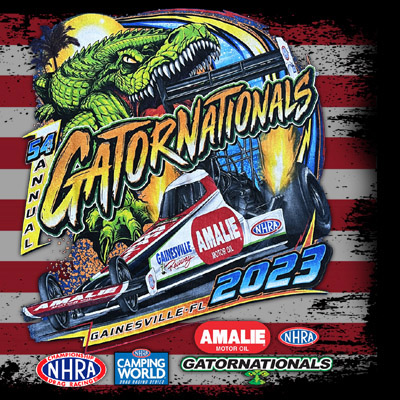 The morning flight at 07.10 was way too early for me.
We first flew to Munich where Åsa met up, then from there to Miami.
Just as we were on the runway the pilot came up with the idea that it was time for inspection on one of the planes engines...
...so that took a while. As soon as we landed in Miami we went straight to the rental cars pickup.
We had booked our first nights in Bradenton so full throttle towards Bradenton. For some reason there were no fast food restaurants alone Alligator Alley,
so we didn't get our first meal until we reached Naples.
We reached the hotel around midnight local time but our minds were still set on Swedish time...
...so for us it was 06.00. ;)

Saturday morning we headed towards Bradenton Motorsports Park.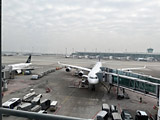 World Series of Pro Mod.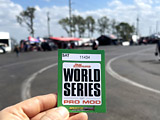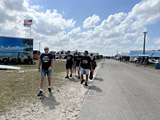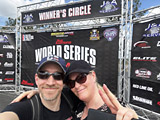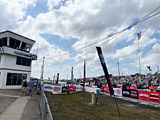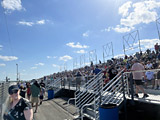 There were 61 Pro Mod cars at place. A fantastic field an I bet the prize sum of 100.000 UDS attracted the best teams
even though I got the feeling most of the teams were more or less individually invited.
32 cars entered a regular ladder and the next 32 were lottered in to a second chance ladder.
Fridays qualifications were delayed due to a sand storm.
When we arrived to the track there was no signs of bad weather.
28-30 degrees C was truly fantastic when coming from 5 C in Sweden.

A quick check of the PM pits: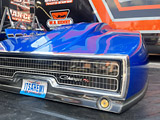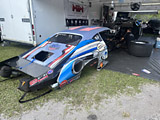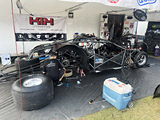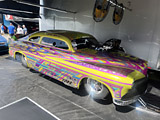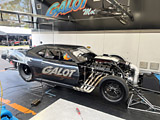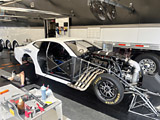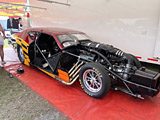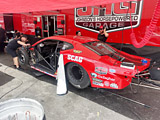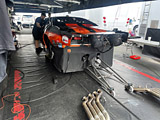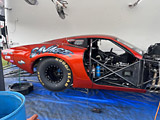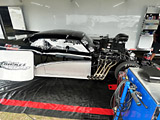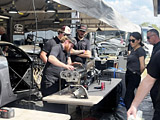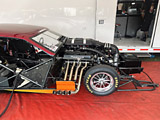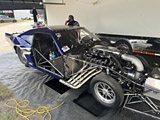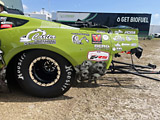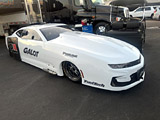 During walking around in the pits I found several friends, as the winner of Sick Week Michael Westberg and his girlfriend,
Andreas Sjödin, Ida Zetterström, Kim Hillander, Lenn Lindell, Kenny and Jimmie Steibert.

The rules for this event were more or less outlaw coming to overdrive and boost.
Many teams used screw compressors. Some running Roots, turbo and nitrous.

One guy that I really got to know running turbo application was Mark Werdehausen.
Me and Åsa were just standing by his pit and looking at his Camaro 69 when he invited in to take a closer look.
After talking about mostly everything we found that we really got along well. So cool.
Mark was actually the crew chief and the driver was Tim Slavens but he passed away in covid early 2022
shortly after getting the car finished. Mark together with Tim's family and the owners of the car
now races the car in memory of Tim. Mark is now driving and tuning it with a MoTech ECU.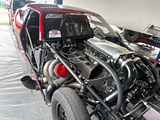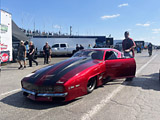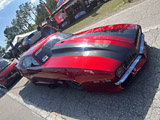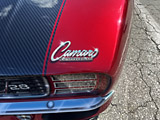 After I got home I found this article about Mark and the story about him, Tim and the team: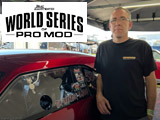 Mark had issues with the boost controller which ended up in a battery problem.
He was way out of the main ladder for a long time until Q4 when he got all things sorted out and ended up in 18th place with a 3,662 - 216mph.
That was the best speed of all during qualifying!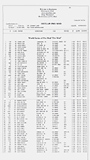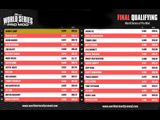 Pro Mod only ran 201 meters (1/8mile) made it quite a challenge to compare with our 1/4 mile times from Europe
but when all 32 qualified cars ran 3,6x times. Thats just so impressive!


Mark won in E1 but lost in E2 even though he put down his front wheels just prior to the finnish line.
I was invited in to his trailer to see the log file to determine if he got his front wheels down
or if he passed the finnish line with his rear wheels. He did get them down but it didn't help.
I was still atoned by his hospitality.

Here's some pics from the lineup and the track during Q and E during PM: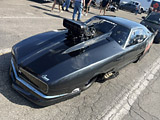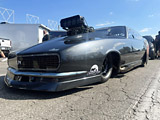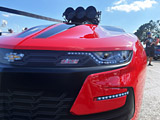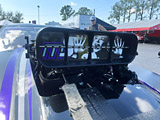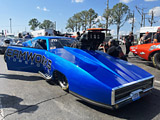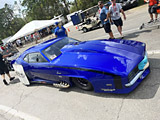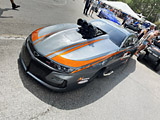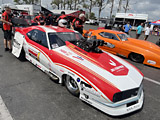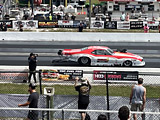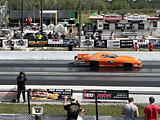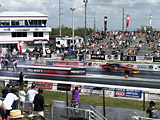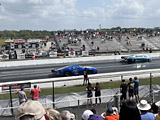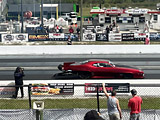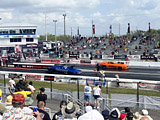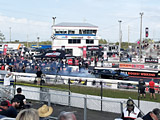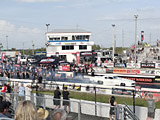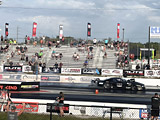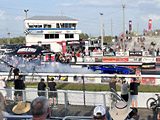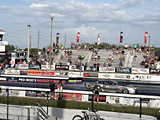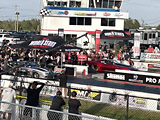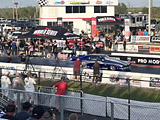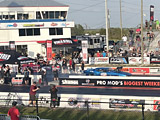 A nice detail was these track side girls walking around with big signs telling
if it was E1, E2 or maybe Q3 or Q4?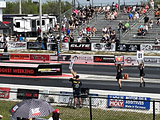 Both qualifying and eliminations went on way after sun set.
Sun sets so early here so why not?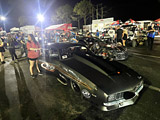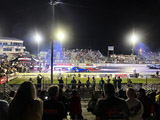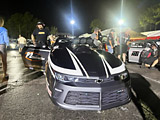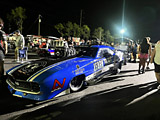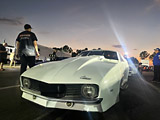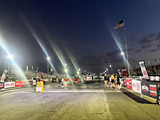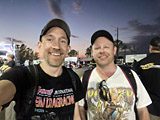 Winner of 100.000 USD was Spencer Hyde from Canada.
From a last (32) place in the eliminations list, Spencer managed to run through the whole ladder with astonishing three hole shot wins.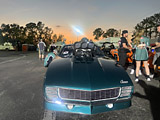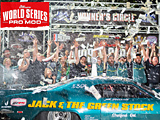 Read all about Spencer's amazing weekend here at Drag Illustrated's page

The event were called World Series of Pro Mod, but there were Pro Stock cars, XFWD and various dragster classes attending.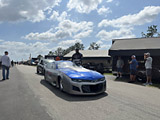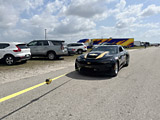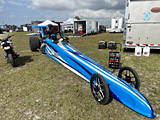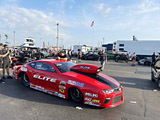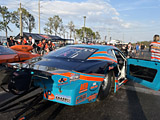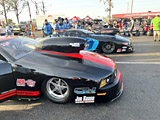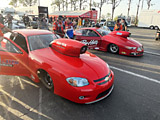 As a FWD driver XFWD cached my attention.
There were 25 teams on site. 22 Honda's, one Dodge (mitsubishi) and one Nissan.
XFWD was some kind of flipped out streetcar class with mandatory stock steel floor pan underneath the whole car,
24,5" slicks and the limit of 75 mm turbo's. Most cars had around 1600bhp and gearboxes from PPG.
The ones in the 16 cars field ran 8,20-7,78s and 178-195mph (286-313kmh). XFWD ran 402m.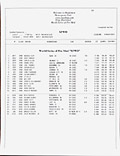 A sad and major problem was language.
All in the XFWD field were talking Spanish and I don't know a word...
...maybe Cerveca, but that was not much of help communicating here.
Felt pretty tragical walking around in their pits feeling like one of them but at the same time so far away.
Gearboxes and engines were swapped just like home. Found some people to speak to but really felt odd.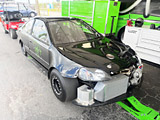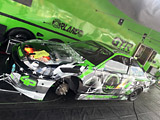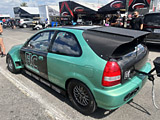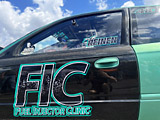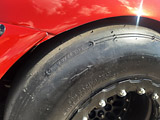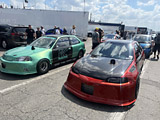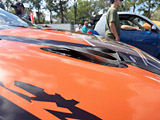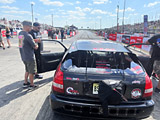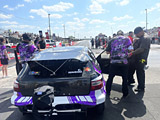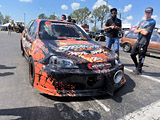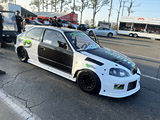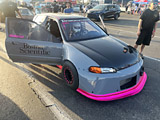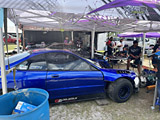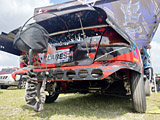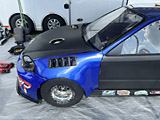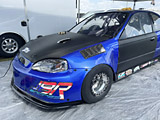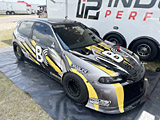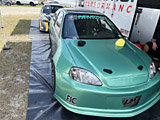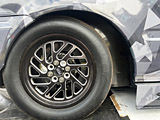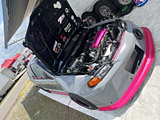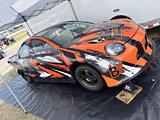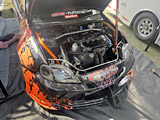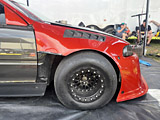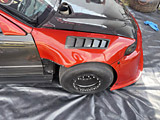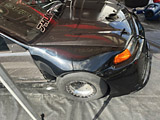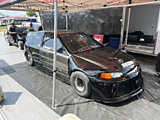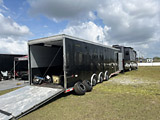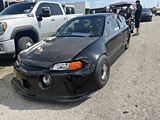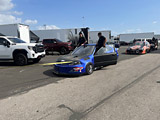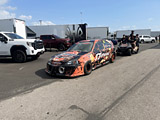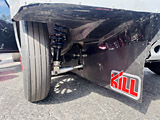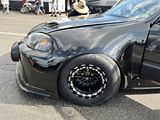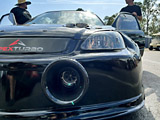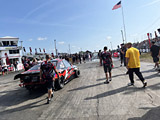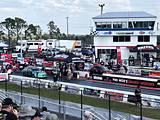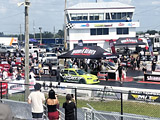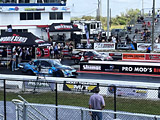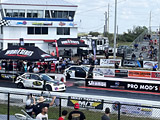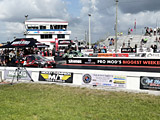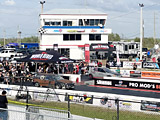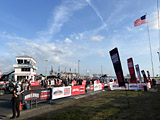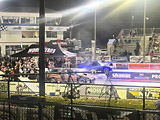 Winner in the class was David Ngo.
He was outside the ladder all the way thru the qualifications until the last round when he smacked with 7,98 - 184mph.
That gave him a 7th place in the list. Then he took it from there to victory.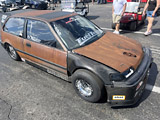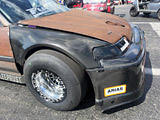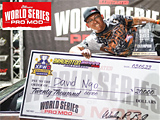 Different pics from the track: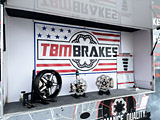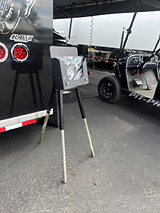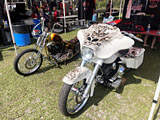 In Bradenton we stayed i a true worker class hotel.
Only worker vans in the parking lot...
...and wow, what worker vans then? Never seen anything like it in Sweden.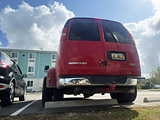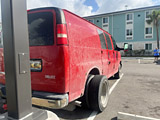 After the event in Bradenton we found a villa thru air bnb in Broken Island.
6 bedrooms with two king size beds in each, 5-6 toilets, 4-6 showers, indoor pool, cinema, billiards, 40 sqm kitchen...
...for less than the cost of the worker van hotel in Bradenton.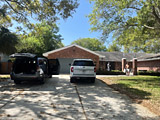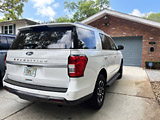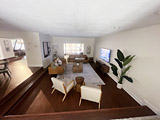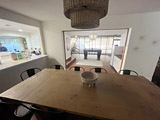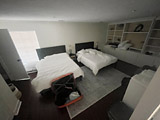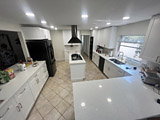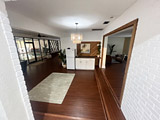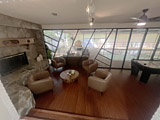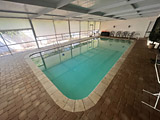 We heard there was a snowstorm back at home so we headed to the beach to take a swim in the mexican gulf.
Seems like bad weather even hit us so we headed for shelter. ;)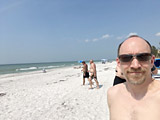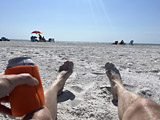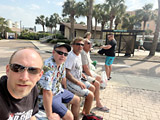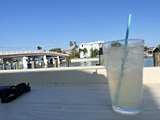 Different activities during the week.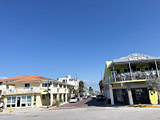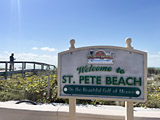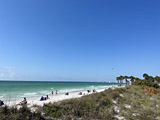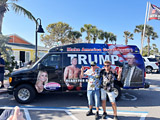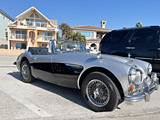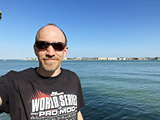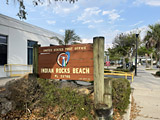 Gëvalia? In Sweden its spelled Gevalia and it tastes allot better. (stronger)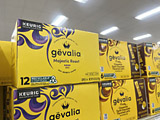 A misunderstanding during the booking of the villa made us to move to Orlando thursday afternoon.
The Orlando hotel was situated pretty far down at International drive. The pool were in the shadow of the hotel building,
but had excellent view. There were alligators just around the corner from the hotel.
We ran a set of adventure mini golf before eating a superb dinner at Alehouse.
I had some chicken and various stuff. Nice. =)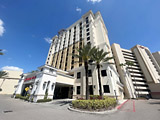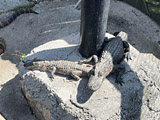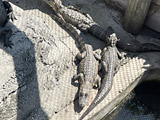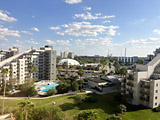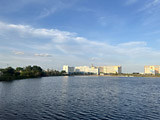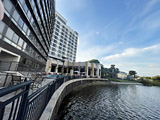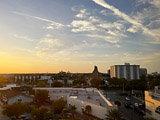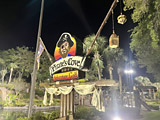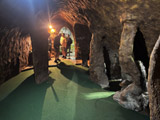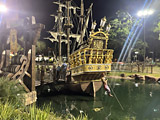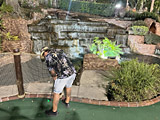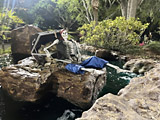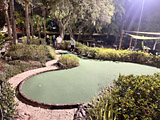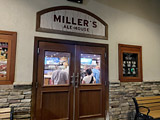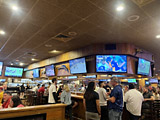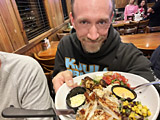 Right outside Orlando there is a Nissan SR20 fabricator called Mazworx. We went there so I could pick up some rods
and get a factory tour of the owner Mark Mazurowski. I could have stayed there for quite some time since we had allot to discuss,
but my friends traveling with me (mostly Pro Moders) thought it was enough after only some 30 minutes...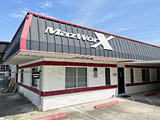 First thing reaching Gainesville was to pick some stuff up at the track that Micke Gullqvist had ordered.
Straight after checking in to Homewood Suites by Hilton we took a walk to Outback Steakhouse for a stake.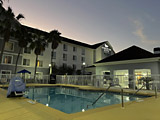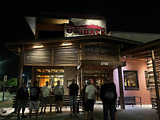 Gator Nat's, Gainesville 8-12 march 2023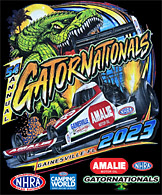 Last year it was hardly warmer than freezing point (0 degrees C).
I haven't written any from that experience yet but it was cold. For real.
Now this was something different. 27-28 degrees C. Lovely.

One could think many teams that ran at Bradenton did it as a warmup for Gainesville,
but only 19 cars were attending at Gainesville. Some ran both but not all and there were some new teams at Gainesville
that did not attend to the Bradenton event. One of them were Dimitry Samorukov from Russia tuned by Swede Adam Flamholc.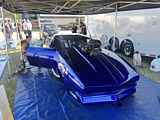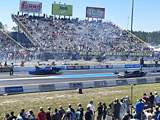 Dimitry took out Khalid alBalooshi in E1 but met last years champ Kris Thorne in E2 and Dimitry/Adam tried too hard...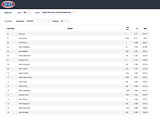 At saturdays event it was called out as sold out, meaning all spectator tickets were sold out.
There were people all over the place so I'm not surprised. The place were packed.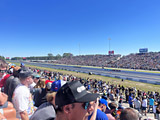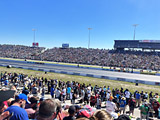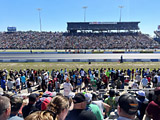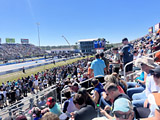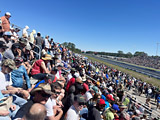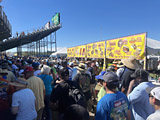 Misc photos from the track: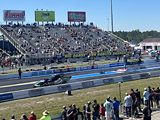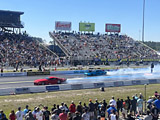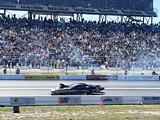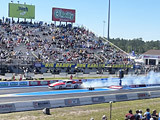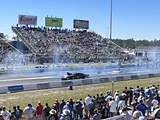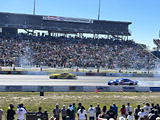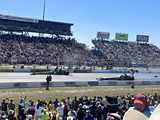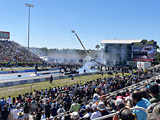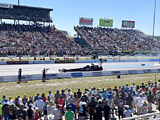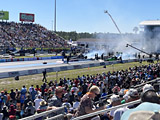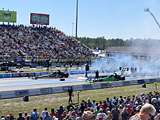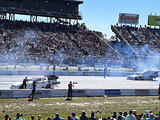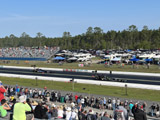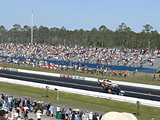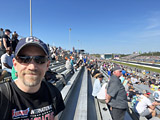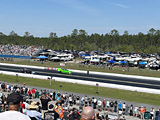 At Gator's there is always a car show behind the short side of one of the grandstands.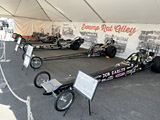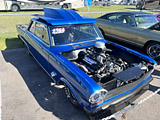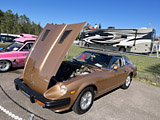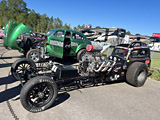 The exhibitions highlight was this old lady revving her (supposed) car from her age.
Looked like the car was about to turn over due to the torque as she slammed the gas multiple times.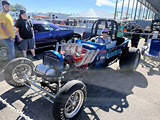 As from nowhere a musical parade showed up and played their way thru the pits.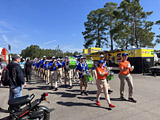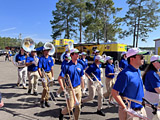 Misc photos from the pits: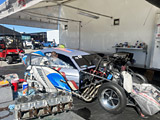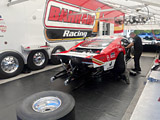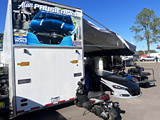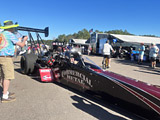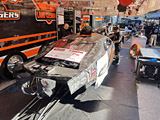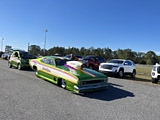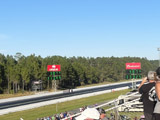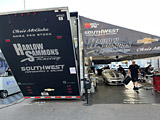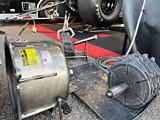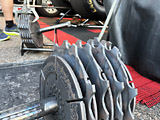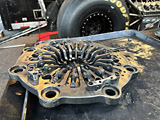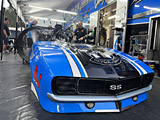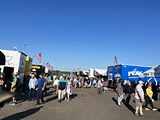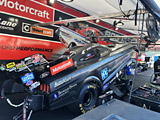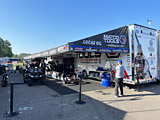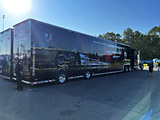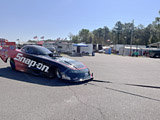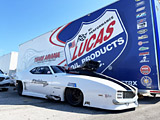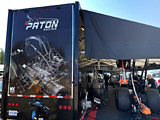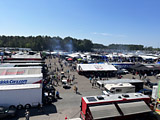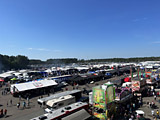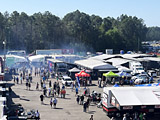 Tired and happy we left the track sunday evening.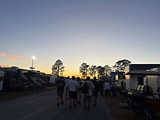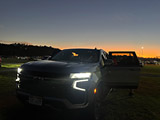 We headed south for a hotel in West Palm Beach.
The best hotel across our route was by the international airport, even if that was not where we were to fly from.
The hotel felt pretty fresh and they had a pool so it had to do.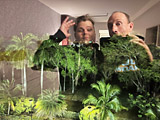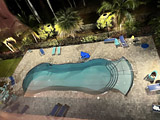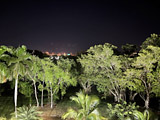 Monday spent at the beach walk. I had some fantastic fish taco rolls.
The urge for a swim in the ocean was subdued to packing wet towels in the baggage so we only watched...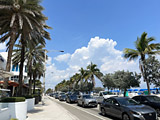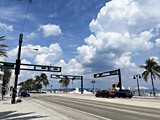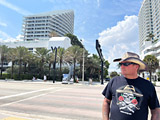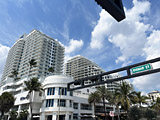 There is a train going from the rental car return to the terminals.
Miami International Airport is a BIG place.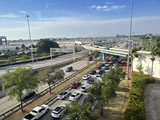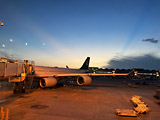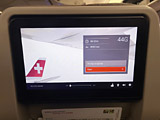 We stopover ed in Zurich on our way home.
Lousy weather and expensive coffee. Lets head home towards Arlanda...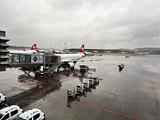 Home in Stockholm there was like -3 C so far reasonable.
We were almost prepared for the need of snow chains to get the car out of the parking at Arlanda.
Back home, I went straight to my local super store to pick up some grocery's to make food for the remaining week at work.



This is a trip to remember in so many ways.
Met so many great people, had such a good time.
I will miss you USA.