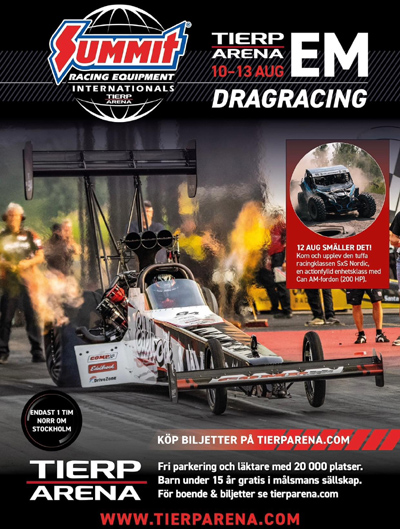 Thursday morning we headed for our home track, Tierp Arena,
to participate in Summit Equipment Internationals 10-13 August 2023.
Olof Andersson has the red bus and Micke Gullqvist has the trailer.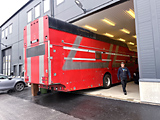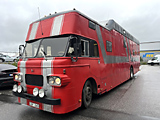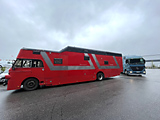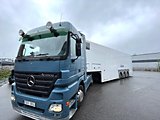 The weather this weekend really wasn't looking good.
There were showers coming and going all day when we arrived to the track.
Thursday was reserved for the sportsman classes to qualify on, but I don't think there were even one run done on the whole day.
To my happiness both Marcus Perman and Fast Fred Fagerström had their new front ends that I made for them.
I made Marcus front 2022. He had moulds that I modified slightly to add a lip below the fog lights.
I actually wanted to add more to it but Marcus didn't want that.
It weights 14kg. I mounted an aluminium tree that Mats Brag had made this spring to it.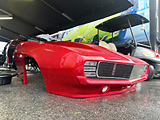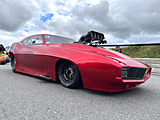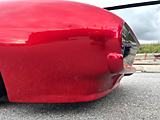 I made Fred's front back in 2021 but for different reasons he didn't came to use it until now.
His old were so full of battle scars, repairs and sheets of aluminium bolted to it, I think it weight well over 20kg.
I made moulds from it, added a flange upward towards the engine hole for strength.
Apart from that this copy is pretty much identical with his old one. Apart from the weight obviously.
This one weights only 12kg. Now he got it painted pretty much like his old one.
I printed some stickers for headlights and grille for him two weeks prior the race.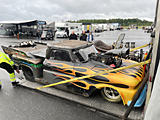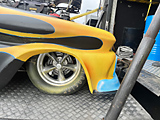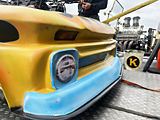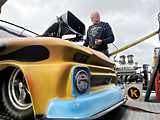 Micke Westberg, multiple winner of Street Week, winner of Sick Week and runner up in Drag Week
ran his new Camaro 67 in Competition eliminator. The previous owner (Anders Edh) used to have a blown hemi in it.
Micke is running a turbo EFI engine. I made a gigantic custom scoop for it in the beginning of this summer.
It still needs some putty and grinding but looks fairly ok as it is. I made it more or less on free hand.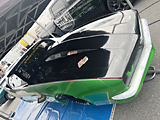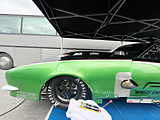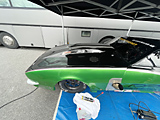 In Pro Mod we spent the thursday setting up our pits and getting our cars scrutineered.
Our fantastic pit warden, Jalle, was always around during the whole event telling who's paired against who and when.
Really excellent!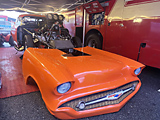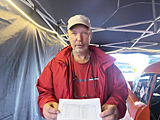 I was mostly helping Olof this weekend but Olof and Micke Gullqvist were pit neighbors.
I jumped some between both teams helping out.
We were offered two qualifying rounds on Friday. Not many teams managed to get their cars down the track in Q1.
Olof was paired against Marcus Perman in Q1. Marcus shut off early but Olof got his Chevy 57 down the track
without too much of a problem, stopping the clock at 6,22-376kmh.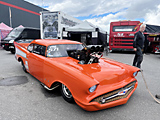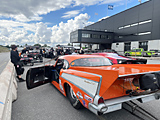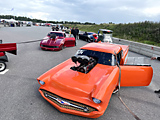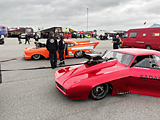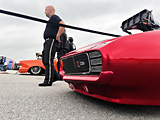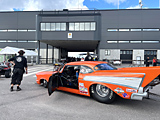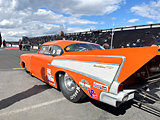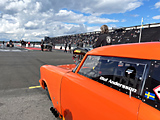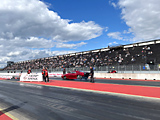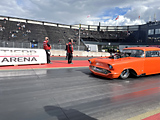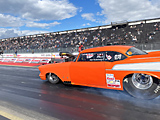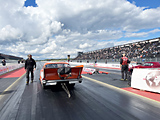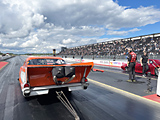 That time was enough for number three in the list.
I took a screen shot of the list since I knew it would change after Q2.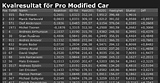 In Q2 many teams started to figure out how to run fast.
Micke Gullqvist ran 5,93-383kmh which put him on the second spot in the list.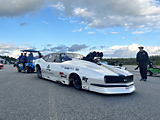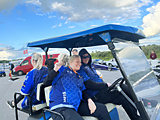 Since we ran good in Q1 we were running as the 2nd last pair against Jimmy Ålund in Q2.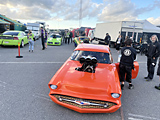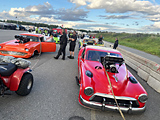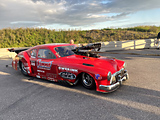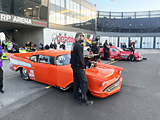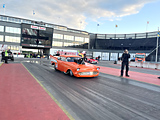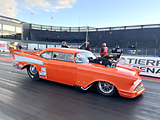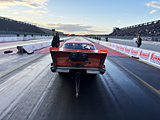 Now things just didn't go Olof's way. Burnout good, backing up good, staging good, but just as he was to launch
the car just wriggled and the gear leveler jumped out. Push back to the pits.
The reverse-neutral-forward section of the lenco gearboxes are known to be a bit tacky.
We took out the gearbox and adjusted the ratios of the mechanism to make it go further and smoother.
Everything else looked fine.


Saturday. All FIA classes were offered three qualifying rounds.
In our first, slightly delayed, run we were paired against Jere Rantaniemi.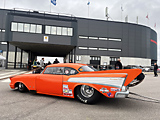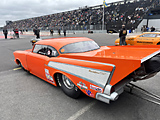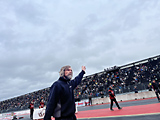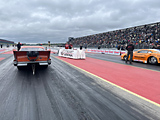 A hydraulic connection on the converter drive came loose on the 57 and it started poring out
a large amount of ATF oil from the car just as Henke was showing Olof into stage.
Lucky it didn't happen later during the actual run with all risks in that.
Now it was limited to a minor clean up of the starting area and some extensive clean up of the car.

Some showers and major clean ups on the track cut down the expected three runs to two.
The second qualification run was done rather late. It was only some 15 degrees C in the air
and one could feel the mist rolling in the air.
Olof got the 57 down the track but no improvement in time.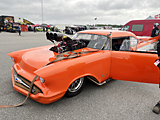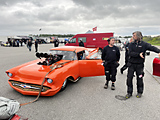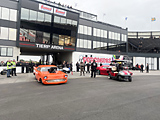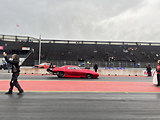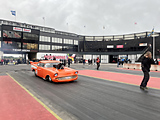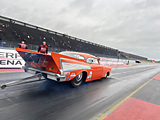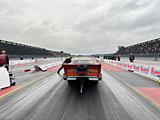 When Åke Bagarn Persson ran against Stian Rusånes the mist had justs started to land on the track.
It was really a close call. To me it appeared as if Bagarn spun five turns. First two wide spins
using the whole tracks width and then three more quick laps around his own axle, looking as if he was on ice.
When this happened the track was closed for the day. Since everyone in the class had not run, all results from Q4 were cancelled.

Andres Arnover from Estonia ended up as number one qualifier with 5,87-401kmh.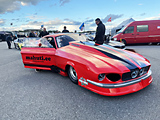 Micke Gullqvist remained as second qualifier and Olof ended up in a 11th position.
The track was tricky this weekend for sure.
This is the qualifying list as the ladder was published: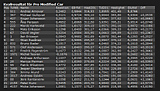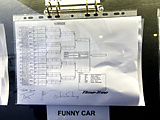 Sundays weather forecast looked like it was going to rain all morning and come to an end around lunch.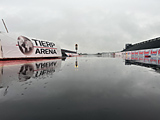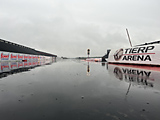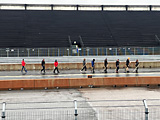 For different reasons Olof and some other teams decided to abort the race at 14.00.
Eliminations started around 17.00. I switched to team Gullqvist wen it was time to race.
Micke Gullqvist got a solo in E1 since Marcus Perman had already gone home and there were not enough spares to fill all holes in the ladder.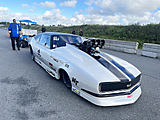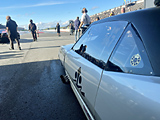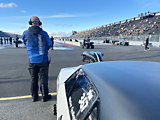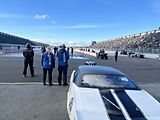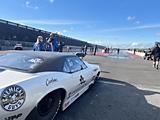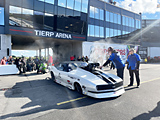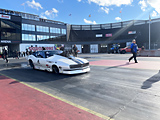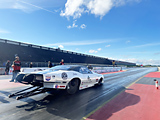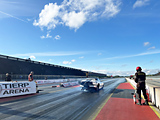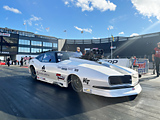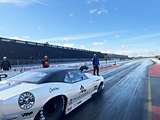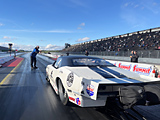 In E2 right after 19.00 we were up against David Vegter. Normally we don't race this late in the evening,
but the weather was fantastic and the track as well.
Right after half track the sun came by the sound barrier and both Micke and David got dazzled big time.
None of them could see anything but David turned out to be the bravest this time and crossed the finnish line first.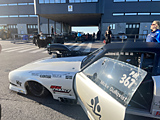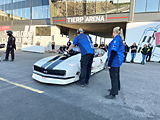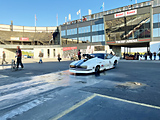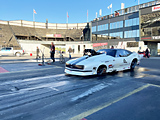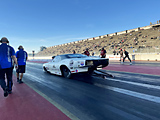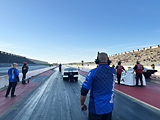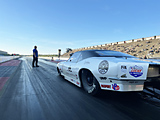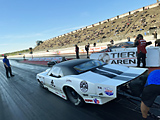 In a normal FIA class race there are no room for spares in the ladder,
but here all spares got a spot in the ladder. For those still present.
The weather only got better and better but the permits for the track was only to 20.00.
I belive the race were on until 20.30 but there was just no time to finnish the race.
This is how the race ended in Pro Mod: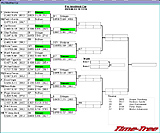 Mixed pics from the weekend:
Jonny Lagg was on site to display the dangers of nitro.
He drives a nitro injected dragster and blew his engine in the pits a couple of weeks back.
For some reasons a good portion of nitro happened to be left in one cylinder.
When the team cranked the engine for warmups it blew. One head got blown off and was hanging in the safety lines.
The head studs are still in the head. About half a metres of the chassis was also blown off and two crew members had to visit the hospital.
It was pure luck no one was killed.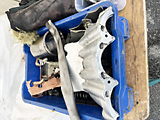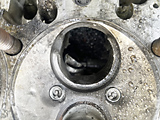 Andreas Sjödin kept setting up a working tune for his friends brand new Corvette.
Stian Rusånes from norway ended up as 9th qualifier.
Fred Fagerström got some sponsor stickers fitted. I'm not sure many people even noticed it was a brand new front.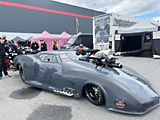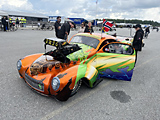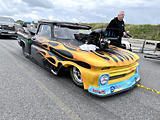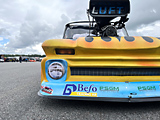 Andreas Arthursson usually qualifies good and performs well in eliminations,
but this time he had too much problems.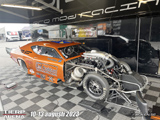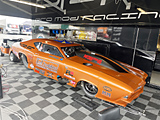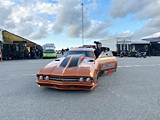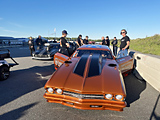 Michel Tooren, Bruno Bader and Micke "Husby" Johansson.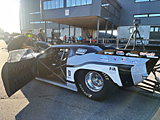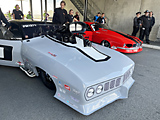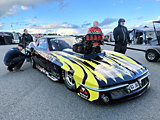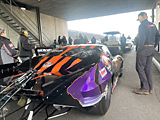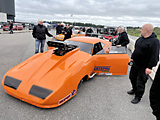 Alexandra Wingård, Per Eriksson, Anders Edh and Krister Adeen.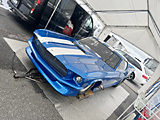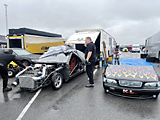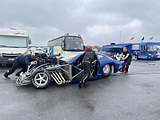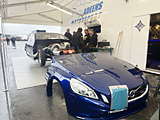 Now its two races left in the European Championship.
Hockenheim and Santa Pod.