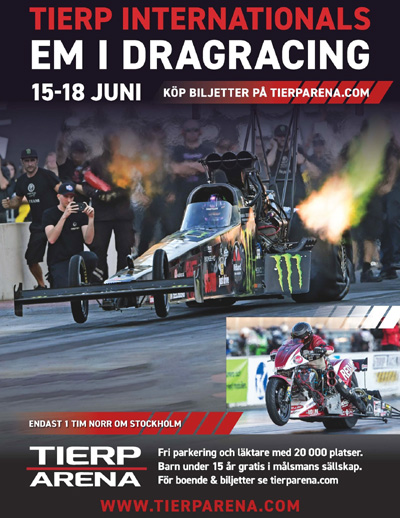 The second part of the European Championship comes to Tierp Arena, Sweden.
We loaded the car on Sunday before the race in great Sunshine.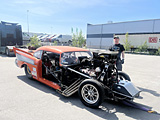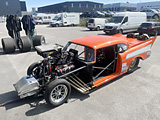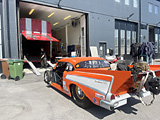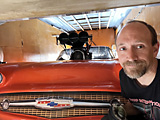 Thursday morning it was time to see if the old Scania would like to start.
Of course it did. With great black smoke. We got to the arena right after lunch,
put our pit up and unloaded the car. This race I was mostly with Olof Andersson PM571.
Micke Gullqvist had his pit space next to ours so I could jump between both teams when needed.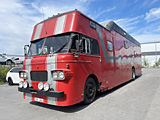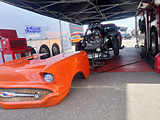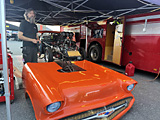 On thursday there were no qualifying rounds for us. Setting up the pits and get the car scrutinered
was all we needed to do. Then there were mingle time the rest of the day.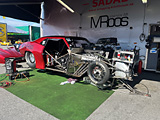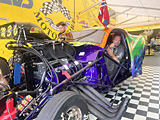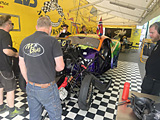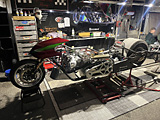 It doesn't get that dark at night this time of the year in Sweden.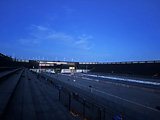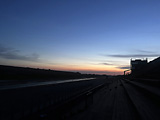 Peter Kunc with a brand new car got it ready just in time.
To be honest I have to add almost there. I welded some changes on his gas pedal one week ago.
The team didn't get the engine to run until friday afternoon due to a faulty ECU harness...
...and when it fired up it didn't run good on all cylinders. It appeared as there were some damage to the ECU too.
Really sad, but the team were in good mood. They fixed all small details so now the car will be 100% ready for the August race for sure.
It is a brand new Jerry Bickel chassis that Mats Brag has finished mounting the body and lots of details.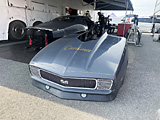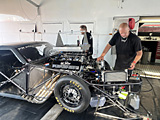 Friday. Hot and sunny.
First qualifying round for us just didn't go well at all.
The car shaked and spun right at the hit and Olof had to let go.
He was in good company though. Only a few teams managed to get their cars down the track in Q1.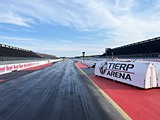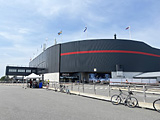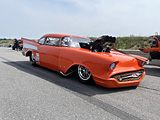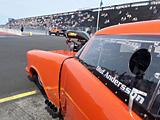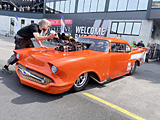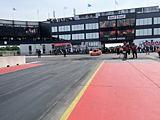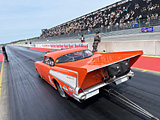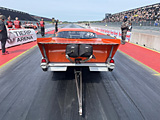 We got two runs on Friday but none of our try's led to anything.
The car acted the same way in both attempts.
Its hard to try and figure out what to do when you only get 0,14s data...
Olof let go as soon as the car started to act up so nothing bad happened to the car.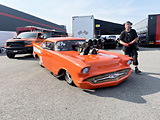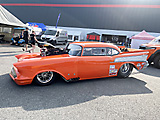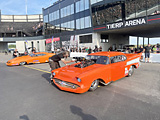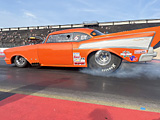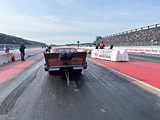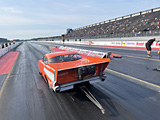 Saturday, even warmer and sunnier. We were offered three qualifying rounds.
Thats pretty much considering we also need four passes on Sunday if staying in the ladder until final.
We did what we could. First (Q3) was more or less a precise repeat of both fridays runs.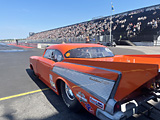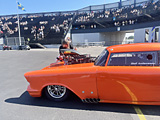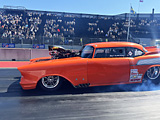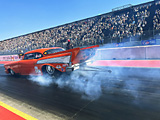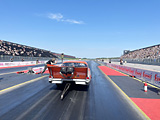 For our second attempt (Q4) we did some changes which the car seemed to like.
Now Olof got the car down the track. Not a clean run, but I think he managed to get a 7th spot with 6,29-365kmh.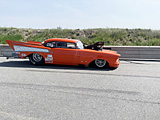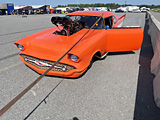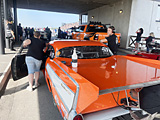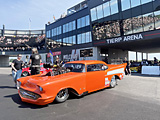 In the middle of everything Britt Sundqvist filmed us at the track.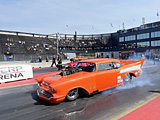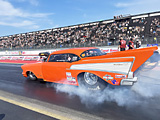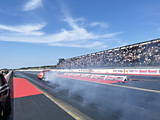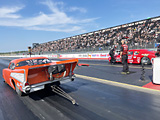 For the third run (Q5) we became a man and a woman short in the team.
Henrik who plays a central role in the team took his family and left the track for a concert.
They had planned that for more than 6 months so I guess that was okay.
Left in the team was me, Pez and Ia. I injected the start up shot and Pez gave burnout signal.
We were up against Micke Gullqvist. Some might think that was distracting me,
but I have to say, not the least. When doing this you focus on one thing and one thing only.
Who's in the other lane, especially during qualifying is not important.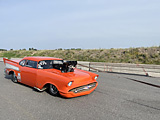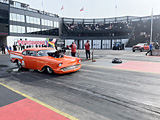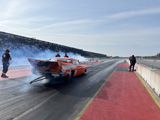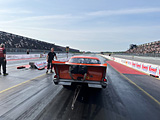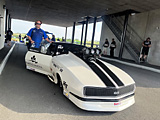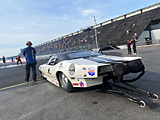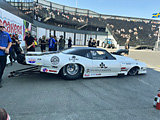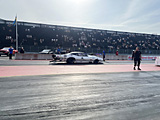 Instead of the match race many were looking forward to, the 57 just shaked once at the hit and nothing more.
Micke got his car to work pretty well and ran 5,93-396kmh. That gave him a 7th place in the list.
Many teams started to figure out their cars vs track combos in the final qualifying round which
pushed us down to a 15th place. Good or bad but we were in the ladder.
The 57 had to be pushed back and towed to the pits.

What broke was the reverse gear. possibly due to a poor adjustment of the linkage.
We had spare lencos but wanted to use the ratios we had in the car, so we just took the reverse housing
from a spare. Apparently it was missing a fork inside it. Micke Gullqvist had a spare fork we could borrow.
Carefull adjustment of the linkage before filling it with new oil and back in the car.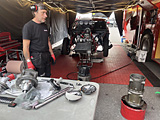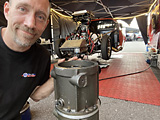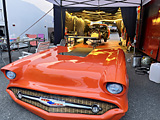 Final qualifying list after 5 attempts and the ladder based on that.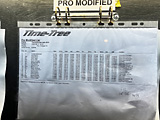 Sunday morning Henrik was back and all was back to normal.
We were up against Jan Ericsson in E1.
The weather had changed from sunny and hot to grey and not so hot anymore.
It felt as if there was rain heading our way.
At Kjula in Eskilstuna, some 120km away, there were heavy raining all Sunday.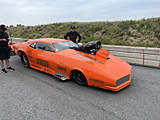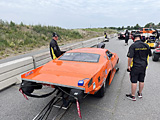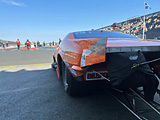 Jan have found a really impressive, good and consistent tune for his car so we felt we didn't have much chance of winning
against him but for us it was mostly another shot at the track to figure out what our car wanted.
Jan almost crashed on Fridays second run. He was all over the track and touched the wall on both sides.
He broke his wheelie bars and cracked his wing. His crew bent the wing back and I added some fresh carbon
to make it back in one piece as the team went home to get some spare CrMo wheelie bars.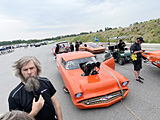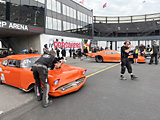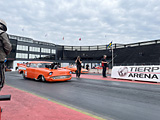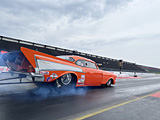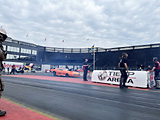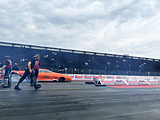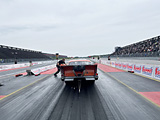 Jan, being the theoretical winner for sure, almost fumbled it at the tree.
Olof was first in to stage and Jan accidentally pushed a bit more brake pressure than he usually does.
That caused him to get very late in to stage. So late, it was only thousands of seconds before he got timed out by the autostart.
He had the thousands on the right side, but since he was so late, the tree shot almost instantly.
Both Olof and Jan got surprised and reaction times from both drivers were really slow.
However, Jan was crossing the finnish line first.

Micke Gullqvist was paired against Michel Tooren in E1. Micke had some various problems
and got kicked out of the ladder in E1 just as Olof. We helped each other out packing our pits.

One more eliminations round for the class were run before it started to rain slightly at Tierp Arena.
It didn't constantly rain but enough to keep the track wet. I believe it was around 14.00 when the race was cancelled.
This is how the eliminations ended for PM: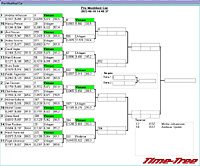 Some misc pictures from the weekend: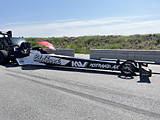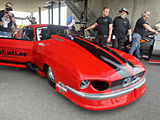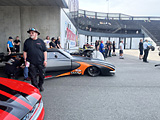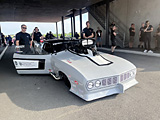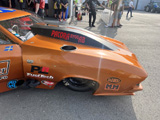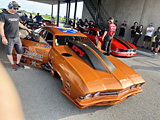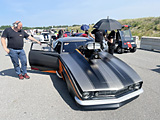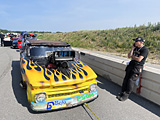 Good to see Magnus getting the old 51 to the tracks with Jimmy Ålund behind the wheel after three years absence.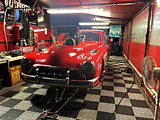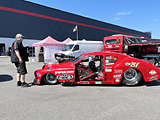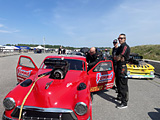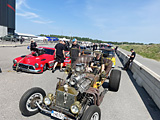 On our way home we passed team Säfsten-Söderlund where Assar Lahti run junior dragster.
Assar went out on a break out against Almathea Granholm in E1.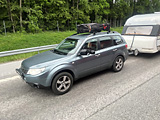 Next event for me will be at Kjula 5-6 August.
I will not drive. I will just be working at the event making it as good as possible.
See you there.