Pantera was a super sports car manufactured by Italian De Tomaso 1970-94.
It sure looked sportie and for the time being I bet it was too.
However, many of its details were found in the left over bins at Ford. At best.
Some parts feels like they were taken directly from the local mining industry.

Stock engine hatch weight 28,5kg. Without the wing, which I am told is a really heavy duty one.
The hinges on the stock hatch are like 8mm steel.
My carbon hatch weight 5,6kg...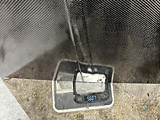 The mission to make a carbon hatch came from an old acquaintance whom's company had gotten a Pantera in
that should get all kind of mods done. The inside was roughly modified and slightly widened to fit the body better.
As I understand it, these flanges rarely follows the body well, but this was fixed to do so.
Now the inside got a bit harder to make a mould from, but I was told not to do that.
Only adequate strengthening's were needed. No need to make a copy of the inside for this one.

Until now I have always used release wax and PVA for all my castings. A thing that I didn't adore with that method
is that the stock paint usually gets ruined and the moulds needs quite some touch before ready to go.
Now I got a chemical release agent called EasyLease CR2. Amazingly nice to apply and leaving almost no trace at all.
It was almost as I didn't belive it would work since regular PVA leaves a trace thick as a coat of paint.
It worked well over my expectations, I can add.

I added flanges prior adding the release agent.
Then I just made the mould with regular gelcoat, fibre glass and polyester.
Some strengthening's were obviously added on such a big mould.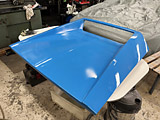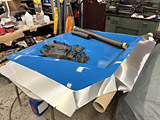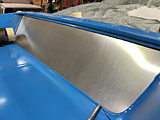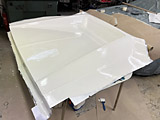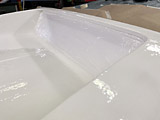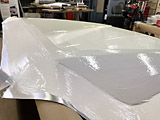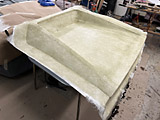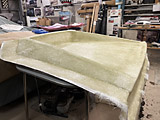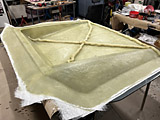 Copying the enormous hinges were totally out of the question.
Nuts were welded to plates that were laminated into the part.
Now the client or who ever gets to mount it decide for themselves what to do with the hinge business.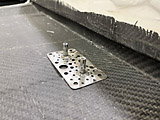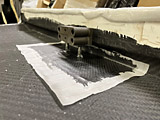 For the inside strengthening's I made a carbon sheet that I put together around the corner flanges
that tend to not follow the body line too well. I covered the sheets with one layer of carbon
to really make them a stiff part of the hatch.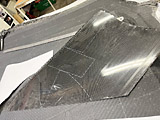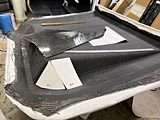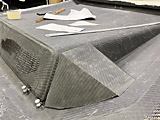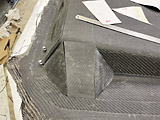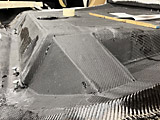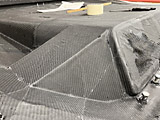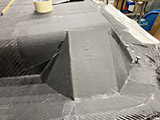 After that I placed a line of bonocell around the whole part and also in the shape of a cross.
The bonocell was covered with an additional layer of carbon. I had to do that with vacuum since
carbon bends itself around sharp edges rather than folds like I wanted it to.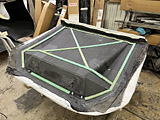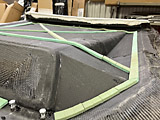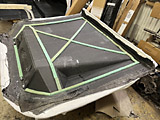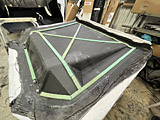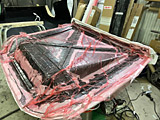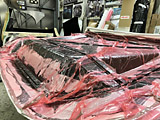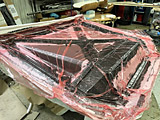 When all parts had cured I did a post curing oven to finalize the curing process before de moulding the final part.
There were many hours spent to get it de moulded. Not that the release agent didn't do its job, but looking back at it,
I should have made the mould in two parts a little different. After a long struggle I got it out anyway. In one piece.
When placing the order I was told the part will get a solid paint job, so the pattern did not matter how it looked.
I did my best to make the big flat areas on the top as good looking as possible, in case the customer changes his mind.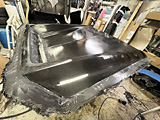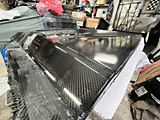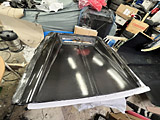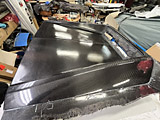 Clean cut, ready for delivery. 22,9kgs lighter than stock.
I saved a couple of mm's around the edge just in case. Its better to have the car nearby
and do the final edge trimming rather than me accidentally grinding of to much by mistake.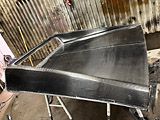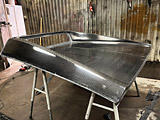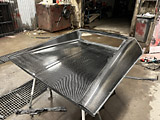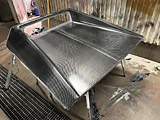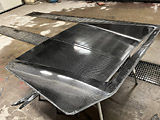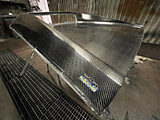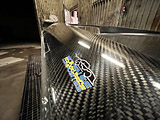 The story could have ended here, but apparently my acquaintance and his client had different ideas of how the job was to be done.
The end client was determent to have the inside of the hatch copied too.
No one told me about it until my invoice were way due and the client had gotten some one else to do a new hatch for him.
A bit confused I had to abort my invoice and take the hatch and the mould back home.
Didn't take me long to find a new buyer of the hatch, for the reduced price I was originally asking.
The new guys car was red and since the hatch was still not painted it fitted perfect.

The edges still needs trimming, but I must say it fits pretty well.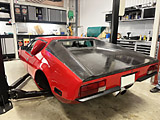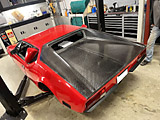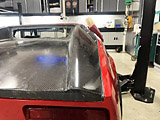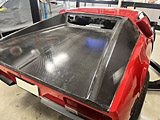 Thats what I call a happy ending.