The European championship 2023 starts off at Santa pod with the Main Event.
Micke Gullqvist and Fredde Fagerström was obviously going to attend.
I went with Micke but Fred needed some assistance before he could go.

The idea was that he should run with his new lighter front that I made for him.
I fastened a tree in it but unfortunately he didn't have time to get paint or a wrap on it in time.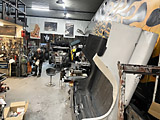 He was eager to get it lighter so I took his aluminium floor pans to my garage to make carbon copy's.
The only quest was to get them lighter, so I did what I could to prepare his old scratched floor pans
and put carbon using the old floor as a mould. I didn't have time to make moulds and then cast in them.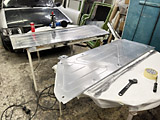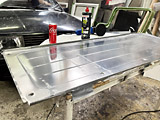 It was hard to get the fibres perfect around all twists and turns but it went fairly ok.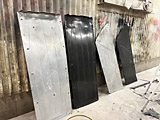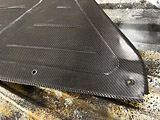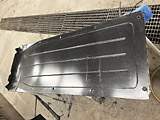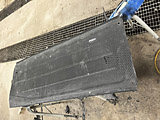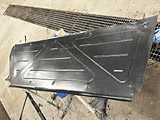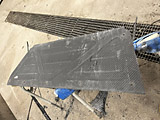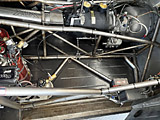 The main target was to save weight and so I did.
His stock floor pans weighted slightly over 4Kg. My carbon copies was 2,3 so a weight reduction with 1,7Kg (42%)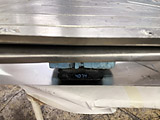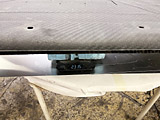 He had a front flag that was very slimmed and not for sure clipping the finnish line cells.
I made him a new bigger one with a custom spread tow look.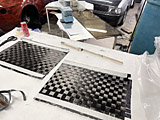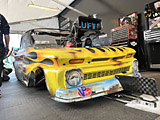 Friday morning, early as...
...very early. ;)
We went to Arlanda for our flight to Gatwick.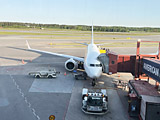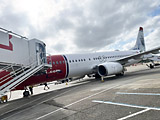 We arrived to the track around lunch.
It was not warm, but not cold either. Pretty ok weather to be honest.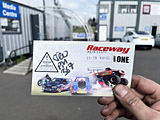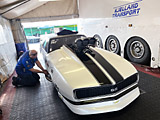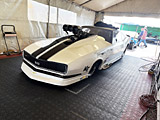 We were up for qualifying Saturday and Sunday. Eliminations were on bank holiday Monday.
Friday was spent gathering the team, changing batteries and filling up oil levels in the Camaro.
The rear wheel openings had got to taste of some tyre shakes. I had laminated and cut them in the garage.
I grinded the edges and put on new vinyl. Seems like the old vinyl had some yellowness after some years.
Looked allot better than cracks and duckt tape anyway.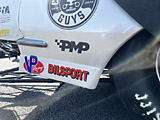 Saturday morning.
I jumped out of my bed in the cargo space in Mickes trailer at 07.00 to plug in the oil heater in the Camaro.
Hit the coffee machine and made myself ready for the days two qualifying rounds.
Fredde (Turbo) started the diesel heater. It was pretty cold outside but after a while the diesel heater did its thing.
The cold weather included lots of oxygen giving extra horse power. The only question was if the track could take it.
Most teams under estimated the track at this point.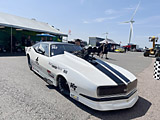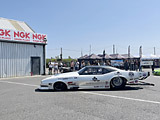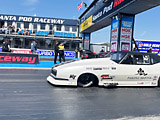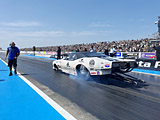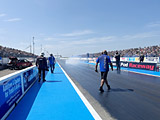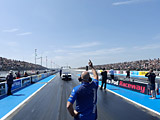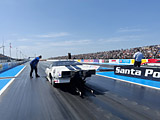 When I say most teams, that include us. We were totally off in the first round.
The car shook brutally almost right at the hit and Micke had to let go.

For Q2 some stuff were changed on the car and Micke could get it down the track.
5,882-242mph was enough for a third spot in the list. Might seem like asking for allot saying 5,88 is only a fair average,
but it was far from a clean run. Both the car and the track could do allot better.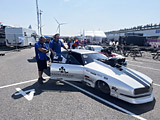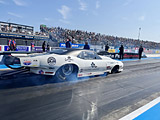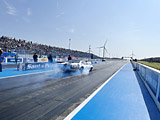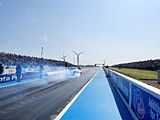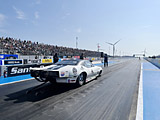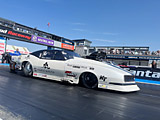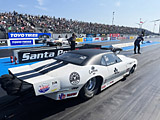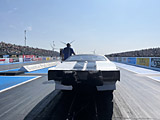 Mats Eriksson running 5,83-246mph was the number one qualifier after day one.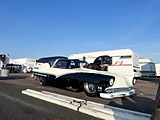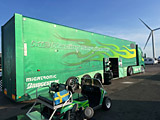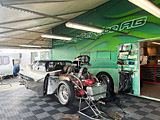 Saturday evening were spent trying to figure out what the track could handle.
Good post card view from the window in the trailer with sun set and the Santa pod finnish line portal.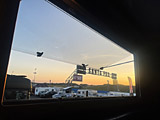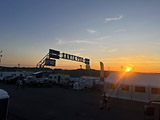 Sunday morning was almost a repeat of Saturdays actions.
I took some sleep over and didn't get out of bed until 07.15.
Fredde hit the diesel heater like a clockwork. One negative thing with it was that it was rather loud.
You had to choose between talking or being warm...


Q3 was very similar to Q1. It seems like the Camaro is a bit tired in the mornings.
Big tyre shakes almost directly off the hit.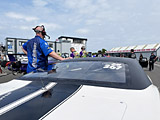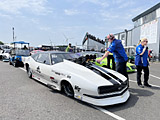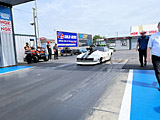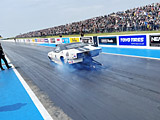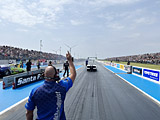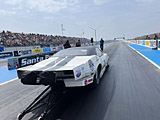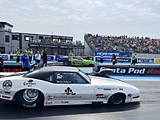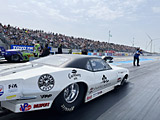 David Vegter claimed the no 1 spot in the list after Q3 running 5,82-247mph.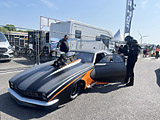 As we sat waiting for Q4 some FWD cars rolled by our pit. They had a FWD index in comp eliminator.
The interest from the rest of team Micke Gullqvist was fairly none, but I like FWD...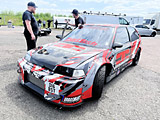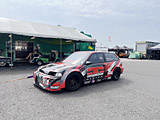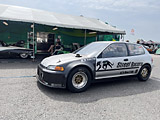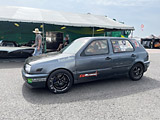 Here is my friend Luke Stevenson right before he's entering the water,
blows his head gasket and causes a 20 minutes cleanup for example.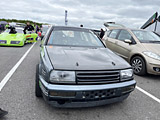 In normal cases he works at the track. Now he just made chaos with it instead. ;)


After a long while it was our time for Q4.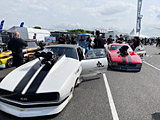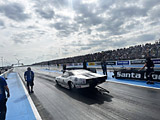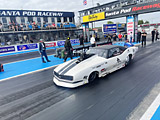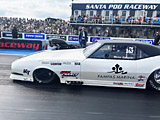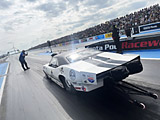 We thought we made our homework well but only resulting in a smear improvement to 5,882-245mph.
Many teams really started to figure out the track at this point so we got kicked down to a eight position in the list.

Jan Ericsson took the first position with 5,76-250mph.
Marcus Hilt ended up outside the ladder and was the first (and only) spare.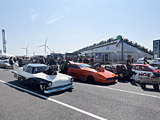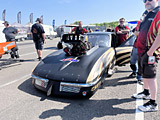 Qualifications list: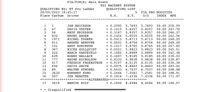 Monday morning, eliminations day.
Lots of changes were made to the car.
It was now or never.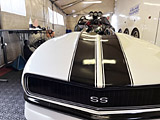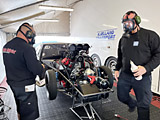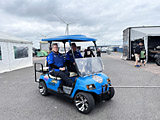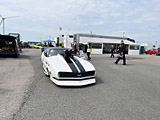 We were paired against Marck Hartveld from the Netherlands in E1.
Marck was a really nice guy.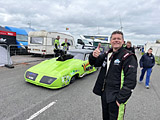 But its not about who's the nicest person, its about who crosses the finnish line first.
Micke were by far away first off the line after a slight burndown.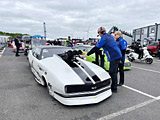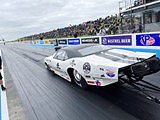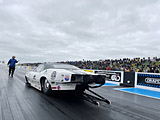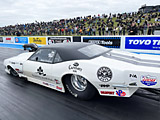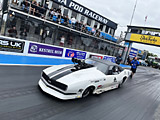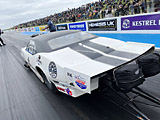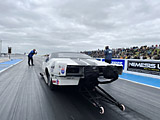 Unfortunately the advantage Micke got by beating Marck at the tree wasn't enough due to the heavy shake Micke got in to.
As Micke's car was closing the middle line he had to let go and see Marck pass running a new PB 5,83-241mph.
Big congratulations Marck and his team.


Fredde Fagerström, superstar at the Pod had his aim clear. To run a 5 sec round.
He was stumbling close in Q3 when he ran 6,013. Close is not enough though.
In E1 he got beaten by Michel Tooren in the Egbert powered Cuda.
Tooren ran a new PB in that round, 5,81-250mph. Fredde ran 0,95 in 60ft but that didn't help.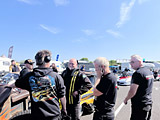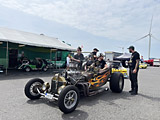 After the finals Fredde was offered another try for the five sec run.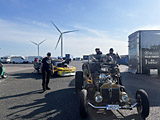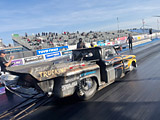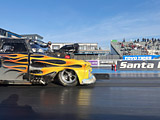 It didn't quite happen this time either.
Thank god, he and his team are still a bunch of happy lads and are still favorites at the track.

Oh, the finals by the way.
We missed the finals in PM. We were putting our pit together.
Jan Ericsson won running 5,74-250mph against Bobby Wallace 6,44-181mph.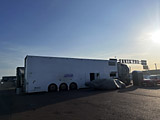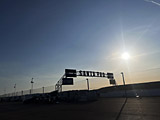 In top fuel, Ida Zetterström won with 3,80-311,9mph against Susanne Callin who went up in smoke right at the hit.
Ida's incremental's were new European TF record in both ET and speed. Congratulations!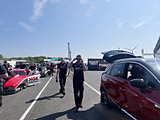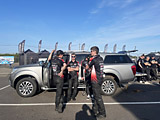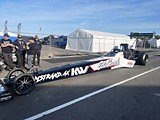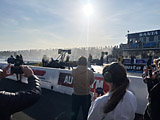 Here are some random pictures from the lineup.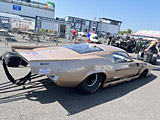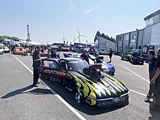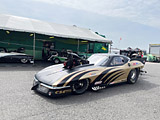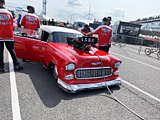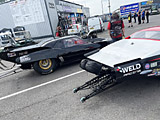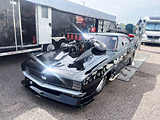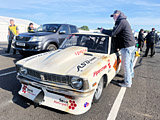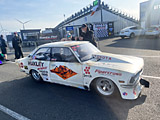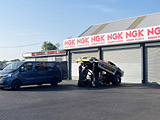 Since we packed our pit into the trailer we had to go get dinner else ware.
Found a nice joint in a nearby village.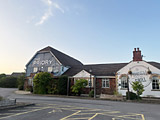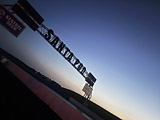 05.30 we headed back to Gatwick to fly home.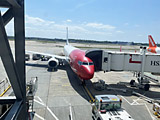 As soon as we landed on Arlanda I went straight to my own garage
to mount the stickers I got from Luke at the track.
I figured they would just be ruined other ways.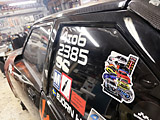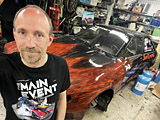 In a couple of weeks the European Championship moves to Tierp Arena.
Both Micke Gullqvist and Olof Andersson are attending in Pro Mod.
I will try to figure out who's got the best food...