A good gentleman, Rikard Bergqvist, contacted me for some carbon fibre work.
He is building a super custom HD motorcycle and needed a rear fender made in carbon fibre.
He will need more part onwards, but this is a good start.

My guess is that he got the original rolled/forged to its shape.
It came to me painted and in excellent condition, just as one could ask for.

After hours of taping and making flanges and release agenting
it was time to cover it all up in gelcoat.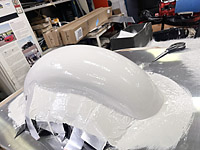 As the gelcoat had reached its B stage I added polyester and fibre glass to it.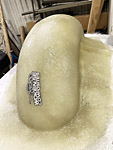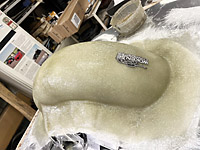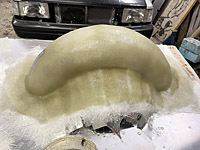 Before adding the final layer of fibre glass I attached my logo.
Just a regular sticker. Rikard will own the cast but still handy to know who made it.

The inside of the cast turned out really good but there were some slight gelcoat leakage between my flanges and the original part
requiring some grinding of the edges. The dark spots in the mould shows polyester.
That doesnt matter since thats mostly on the outside of the mould and will not be visible on the final part.
A sad thing was that the shape of the original part locked the part into the mould requiring some rough treatment to get it out.
The mould kept intact but the original part looked pretty beaten up after demould...
A good thing is that the mould is still intact and represent exactly how the original part was prior to demould.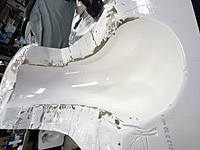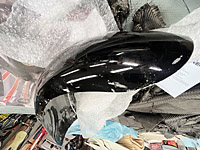 As we all know a HD vibrates quite allot.
That taking into consideration and the fact that this will be a street driven machine
I chose to use a kevlar weave for this application.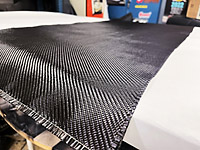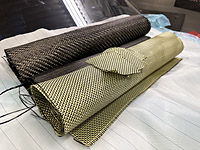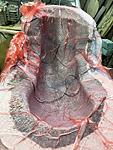 For the first visible layer I chose a 240g weave. It keeps the weave pattern better and makes a better appearance,
but the cost of that is that its harder to bend and squeeze. Therefore I had to choose some point to cut it.
I simply couldn't get a perfect finnish in both ends of the fender
so I chose to make a cut in the front hoping it would be hid by various other parts.
Its most visible in the last picture.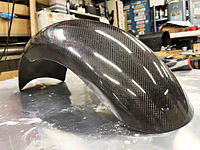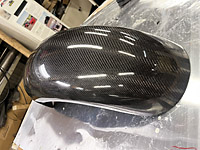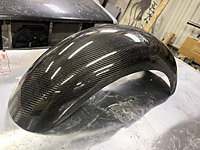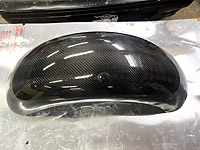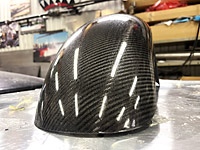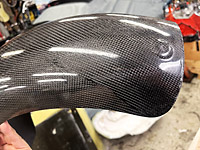 I added a sticker at the end tip for fun.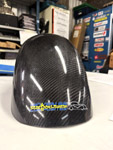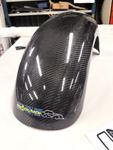 The day after Rikard picked it up I got these pictures sent to me.
I must say it looks pretty awesome.