After yet another season as a crew member of Kjula dragway
I felt it was time for some track time for myself.
What actually happened last time?
I roasted the gearbox before I even arrived to the scene.
I also roasted the head which I repaired at the track.
I had a pretty generous oil spillage on the short end of the engine after that
so I felt it would be best to lift the head in good order to check it out.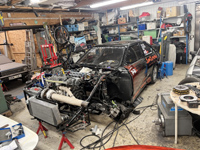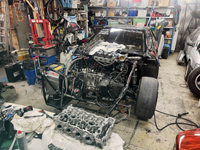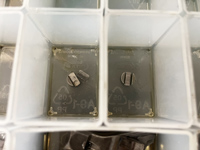 When removing the head I noticed a lachcap on exhaust had cracked,
and all exhaust valves were leaking. The springs were as new so not all was bad.
I got help from a guy called Bullen (somewhat the muffin) grinding new seats in no time,
since I was out in good time (like always). The grinding caused some rough edges
in the combustion chambers so I had to fix that prior setting the valve clearances.
Originally this engine, SR20, was equipped with hydraulic/automatic lifters
but that does not work out when having all out race cams. When having all out race cams,
there is a need for a complete mechanical workshop to set the valve clearances...
...unfortunately.
Luckily I had one. =)

Even though I didnt finnish until 0400 saturday night prior to the race.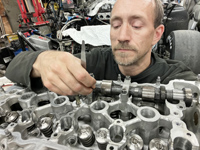 To get my standard friends/team engaged (Nalle and Elmer) I was required to get new slicks.
I heard there might be some difficulties getting stuff from the US at these times,
but slicks in my dimension were obviously not one of them.
I got the tyre's to my door in one week when ordering from Summit.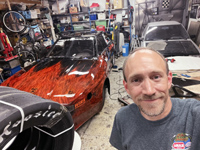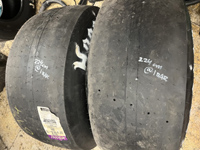 Nowadays I always check the diameter/rollout of the tyre's after mounting.
Slicks are hand made and allot can happen with them from the point they were measured
in the factory to the point they are mounted on my rims...
Better to measure the slicks at first rather than wondering at the track why the car not going straight.
This pair were excellent! Thank you Hoosier!

As the engine were complete, I prepared an extra set of clutch discs.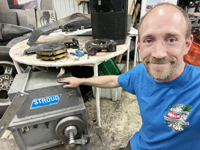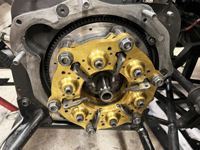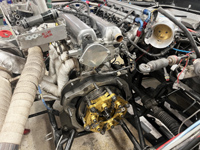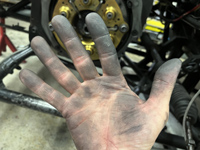 Carbon fibre? Were there any news?
I made new liners for the front wheels last year but didnt have time to finalize them prior that race.
For this year I added a protection shield for the crank case vent tank.
In case a piston failure I dont want all oil on one wheel...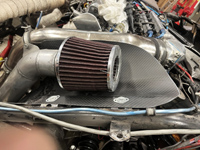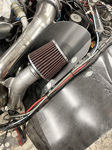 Wensday evening the engine was test run and mildly warm upped.
Thursday evening it was time to put it into some sort of trailer.
I got, just like last year, the possibility to loan Olof Anderssons bus,
that we loaded with the car. We also equipped it with metric tools.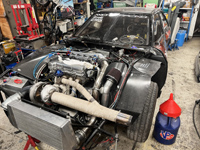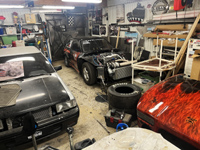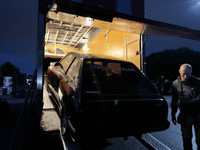 Friday right after lunch I went from work.
The oil I used to use were out in my stocks, so I had to grab some bottles.
Persåkers Speedshop is on my way to Kjula from work
so I figured I might just as well pick up some oil there.
Persåkers is really a speed shop worth its name.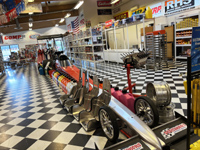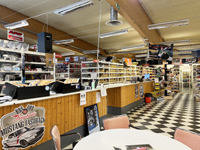 The weather were really confusing. As I closed in to the track, dark clouds were present
and some rain but not much. You never knew if there were comming another shower or when.
I believe we had got 150 teams in to the pits at 22.00 hours. 177 were signed up for the event
but some always arrive at saturday morning for some reason.
We closed the entrance gates at 22.00 and I went to the nearby roads and moved all road signs.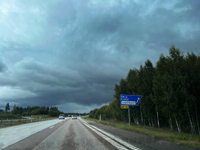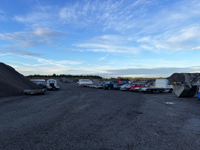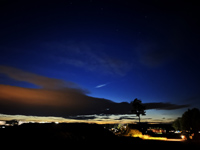 Henrik went to the track with the bus including my car as soon as he had finished work.
He arrived around 21.00. He, Nalle and Elmer built our pit space and got the car scrutineered.
All I had to do was to show up. Luxury at its best. =)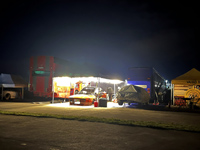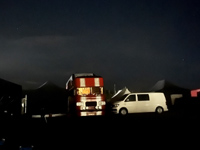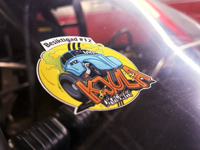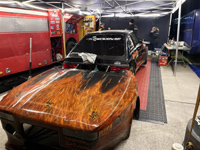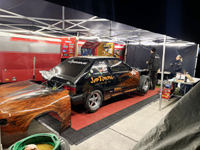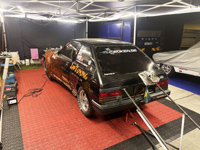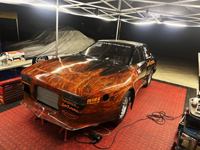 Saturday morning it was time for drivers meeting.
I won the alcy lottery and got the chance for testing the alcy meeter.
Less suprisingly I had zero alcohol in my breath,
but its still a good manner to test drivers randomly.
I dont want to race against a driver that has got a gigantic hangover.
Theres simply too much at stake for letting such a stupid thing come in between.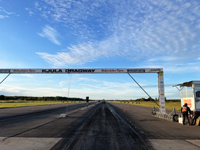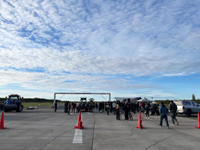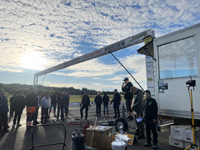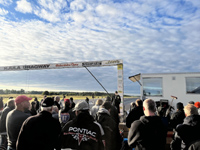 Warmup didnt go quite as expected.
Correction. The expectations were probably in the basement,
but at least let us get to the lanes?
The engine ran fine on all four cylinders but the wheels did not move.
At all.
It turned out I had set up the clutch perfectly...
...one turn on the indicator clock wrong.
No wonder the gearbox were so hard to mount as the clutch were 2,54mm off?

As I was resetting the clutch, I found a faulty steering joint,
so Elmer went to Snowball Racing, only a couple of km's from the track, to get a new joint.

Wee missed the first qualifying round but all 177 teams were offered 4 qualifying rounds.
I felt there might have been a couple of drops of rain as I resetted the clutch.
With a new joint and some wheel alignment we were were ready for the class Q2 (our Q1)
While were at it, a quick workover with some detailer came in place.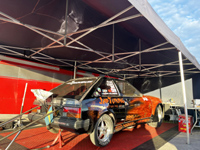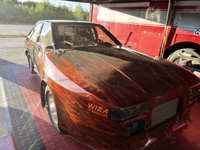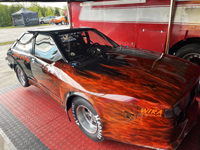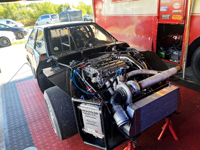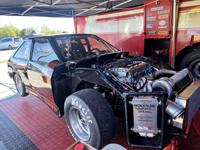 Some confusion in the team lead to that no one showed me in to the water,
which in addition was too little. We have tried that before and that does not work at all.
A normal drag race car wants to have pretty little water and wants to stage deep in the water.
I need loads of water and to be staged very early in the bleach box...
I didnt get the wheel speed needed in the first try so I did a retry in 2nd gear
to try and at least rip off the manufacturing dust.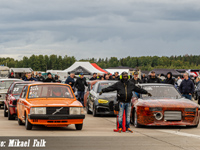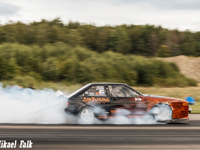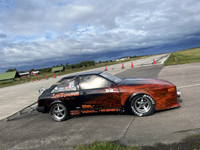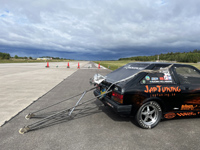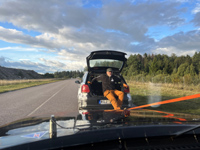 Some say during qualifying it really doesnt matter but for me all runs count.
I was the first to cross the finnish line and thats what matters to me.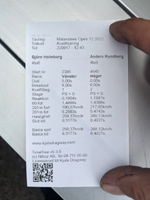 Our Q2 (class Q3) just didnt happen for us.
Burnout was good. Stopped in the speed trap for 201m.
That means I did a 150m rolling burnout which is all good.
Backed back and was back to the start line area at the same time as my opponent.
During the staging process I came off balance. Entirely.
Too much handles and buttons. I got confused, over staged and couldn't handle it.
I was out. We dont have enough fuel for dual staging. I have one try, thats it.
There were only one safe way and that was to back out of it and aim for Q3.

I had to sit in the car, fastened and going thru all procedures.
Over and over and over again.
There are a few things that cant be automated that I have to take care of as a driver.
When driving the car only a couple of times a year, there is a risk of the driver getting rusty.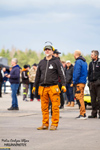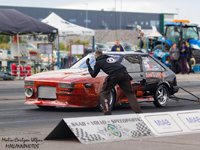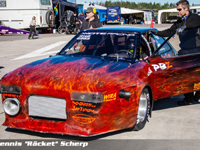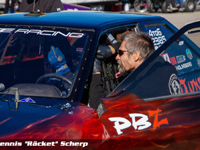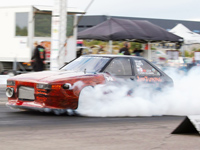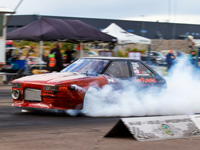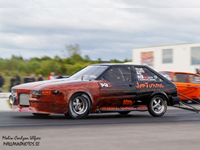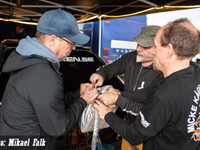 Johan Falgren that I had promised to roast at the tree showed up without a car,
but in perfect time to to help out packing my chutes.
I have been packing PM Shutes for a couple of years but this sportsman shutes differs quite allot.

For my Q2 (class Q4) I got my shit together.
The wear on the tyre's from the first round showed that there might have ben too low pressure.
We increased the pressure to get a better pattern on the tyre's.
I did a 150-160m burnout. All felt perfect.
Backed back quick as supposed to.
Then there were some issues with my opponent, Kristian Sjöbrgs part of the tree.
He went into stage as I was still getting pre staged by my crew members.
Just as I went into stage, his side of the tree indicated he rolled backwards.
We stood at the tree for a long time, then Kristian went off on red.
I waited for green which resulted in 9,28-259kmh.
Slightly poor 60ft. Might have been due to more power, different tyre pressure or something other.
I got into the ladder on a 11:th place in the 24 car field.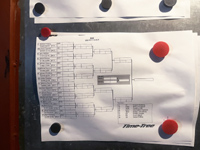 Might feel poor to get into the lower part of the ladder
but I had the only FWD on the site.

E1 I was up against Jörgen Andersson with his BMW powered Opel Kadett.
In eliminations anything can happen so the show's not over till the fat...
First to cross the finnish line is what matters.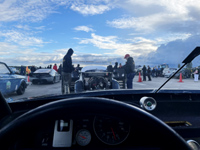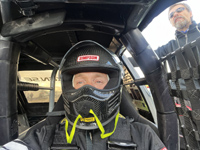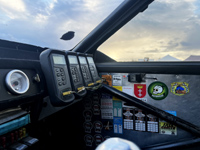 Unfortunately my rod bearings died in the burnout. All I could do was to get back and let Jörgen get his run.
Jörgen on the other hand broke a drive shaft in the burnout so if my engine had worked it would have ben an easy win.
Winning is not as important than to do it professionally.
If I know my engine will blow and cause a big cleanup I would just be an idiot to try.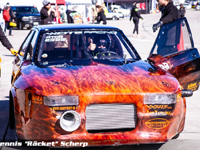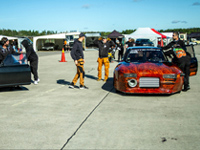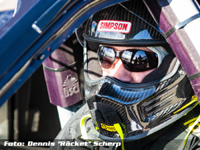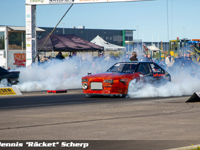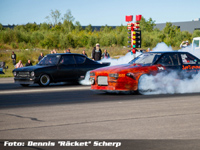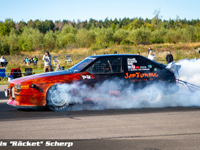 Besides the professional/unprofessional manner there might be some money saved
from not blowing the engine into really small pieces at the track.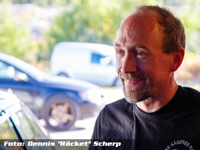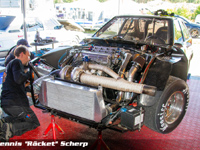 We packed our junk together and went from the track after the finals
and price giving ceremony had taken place.
One of the team members kids had infected all in the team with some true agressive stomach disease.
Most of us got home before their breakout (not all).
The following week was a scientifically experiment for all in the team of how to empty an empty stomach.
Really fast.

Just like last year I got a screw in my daily drivers tyre. Again.
I got home without having to change to the spare this time.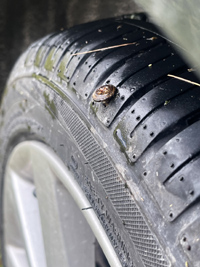 A message to you whose putting screws in my tyre's all the time.
Please stop it. Its not funny anymore. ;)


Here is some misc. pics I took with my phone during the race.
Without any specific order: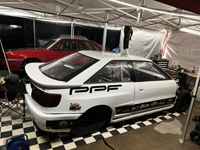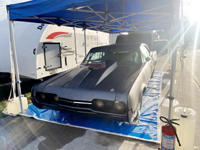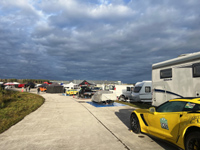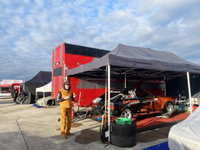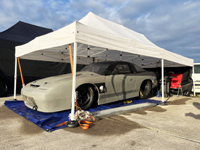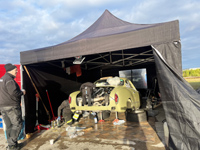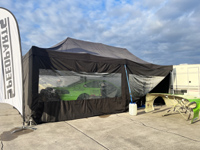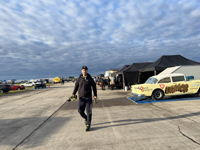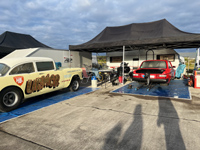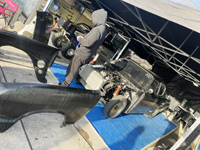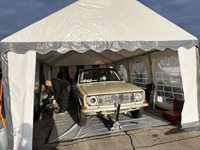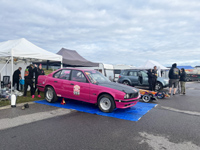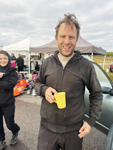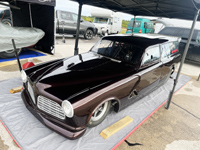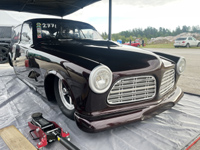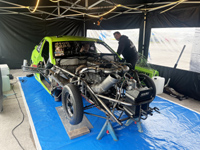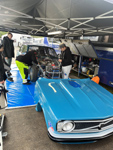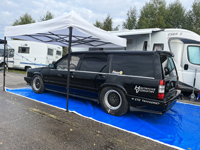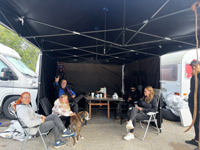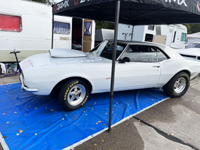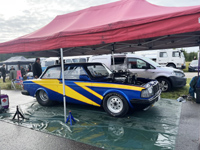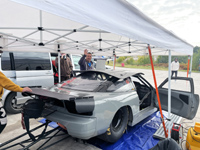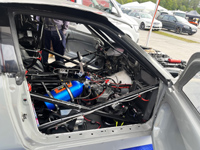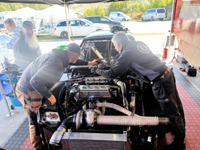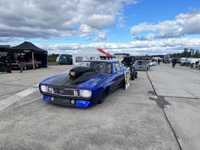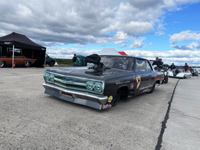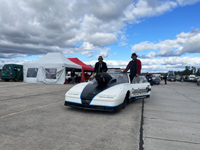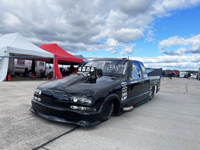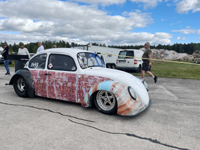 Big thanks to all drivers, teams and crew members who made Kjula 2.0 to what it is!
I will be back. Some times with my car, some times just in person.