Audi S2 bonnet.
A short background to all is that I had a little chat with some racers at the track Kjula
late last year at a race. We came in to the subject of carbon fibre.
Since I helped Olof Andersson making new doors and a front end to his
Chevy 57 Pro Mod car I felt comfortable with the materials.

The guys competing with Audi S2s needed to loose weight so I offered to help out.
Autumn went by keeping me busy with other things but in late December it all started.


This is somewhat a step by step description of how I did it.
I am not a professional so bare with me.

Step one was as in mould release waxing. Minimum 5 coats.
Then its taping time. Never attempt to wax on the tape since the wax releases the tapes fastener.
I taped aluminium plates around the hood since you cant cast edge to egde.
You always need to cast bigger and then cut it to designated shape.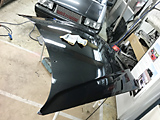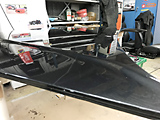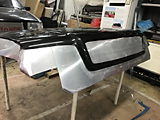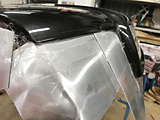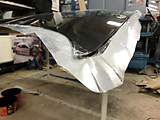 The hood that I got to mould from had some dents and holes for hood pins.
I simply taped over the holes, taking care of it in the mould.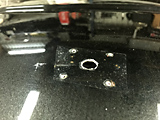 When everything is to satisfaction and release agent is applied, I got crazy with the gelcoat.
The more, the merrier. No shame in putting on two layers. Cover should be 110 %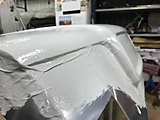 As the gelcoat gels (about an hour) I rip/cut all fibre glass needed for the application.
If quick there will be time for a quick lunch. When the gelcoat turns sticky its time...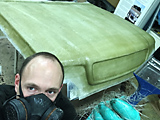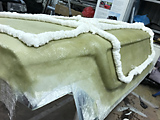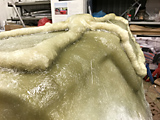 Next day mould is hardened. Just turn the page.
In this case I wanted a mould of the inside too.
The edges are already there. Remove the plates and I can cast against the edges from the outside.
There were quite allot of holes on the inside to tape over. All sharp edges were filled with toy modeling clay.
Then just like the outside. Lots of gelcoat, fibre glass and polyester.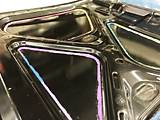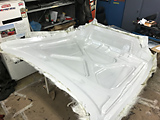 The day after that its fine to crack loose.
The release agent I use is water solvent but NOT water based.
Its pretty chemically strong actually. This hood survived okay but the paint gets soft/gelly
and mostly some artifacts appear even if it goes back by itself sometimes.
I borrowed a car from a dealer once to make molds of it in whole, it ended up I had to buy the car...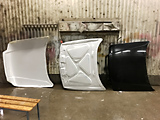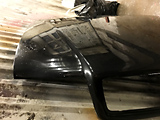 Next step is mould fix.
What was disliked in the original shape or didnt turn out good in the mould
will have to be grinded or added here. I polished the moulds with boat polisher.
Lots and lots of hours were spent here, but the more time spent here
the better result is to expect on the finished part.
The surface here will be exactly the same in the finished part.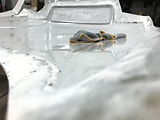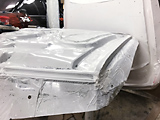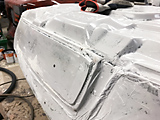 Feeling happy with the moulds and adding 5 layers of mould release wax
its carbon time. I put additional stripes of 200g around all edges.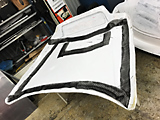 Release agent first.
Then I chose to paint the moulds with a layer of epoxy and almost let it harden.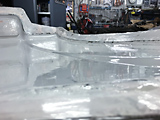 When it was still sticky I made two tables that could slide over the other.
That way I could under full control slide the carbon on to the mould.
First attempt didnt turn out too good but the second went okay.
I had V-weaved carbon so I was pretty keen on getting it right.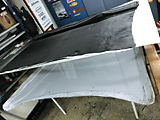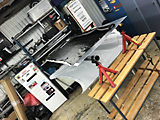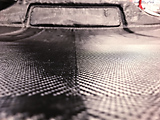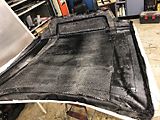 I did hand lamination with vacuum bagging.
That means epoxy is applied by hand on to the carbon. Then peelply, release film, breather
before sticking it all in to a bag. It is ok to just stick one sheet of bagging film to the edges
but wise from prior tires an envelope bag always works best.
Especially since a mould made of fibre glass always leaks.
Its a special feeling when the vacuum works and cramps the mould.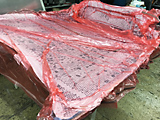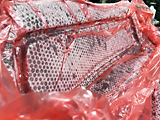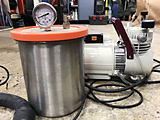 In this case I had chose a slow hardener so the cast had to rest in the mould 30 hours
before removed. Two days after casting it was time to see the results.
It wasnt pro performance but it was fairly okay.
What was more alarming was how thin and soft it was.
It really didnt have more stiffness than a paper.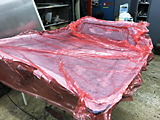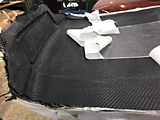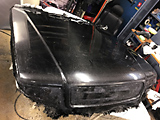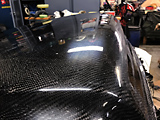 As I was to add an inside I left the outside as loose as it was.
The inside were made in a similar way. Really tricky to get the carbon all the way down to the mould on all corners.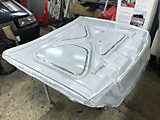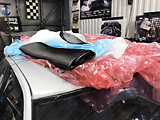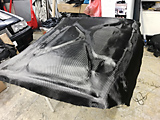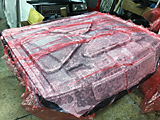 One can obviously see where I had trouble getting the fiber stick to the mould.
Thank god this is not for exhibition. This is for race.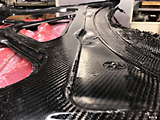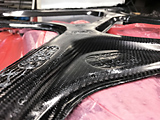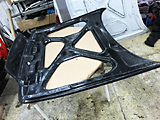 Nuts were welded to plats and glues/laminated in to the insides.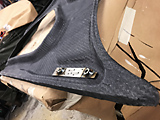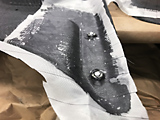 Then it was bonding time.
I fastened the outer skin to the outer mould to make the final part accurate.
I bonded all edges possible but I also laminated some of the edges to make sure.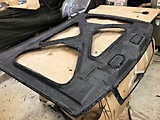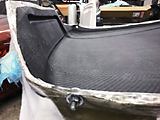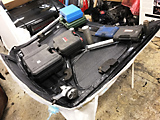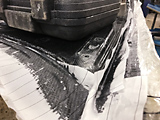 Final part. Weight?
Edges cut less than 4kg against stock 18kg.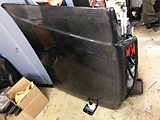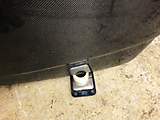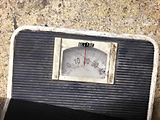 The greatest surprise was how the outside skin that felt so weak before
didnt matter at all when the parts were bonded together. Unreal.
Work will still remain to make show finnish but that was never the idea.
I feel pretty happy over the results. I made two hoods at a time
but they were still ordered so I dont have one in stock.
I can do more if of interest.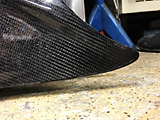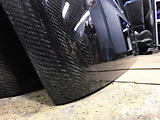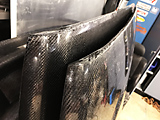 I got so satisfied over the results I came ut with a logo that I inserted below a sheet of peelply.
Melts in nicely into the cast.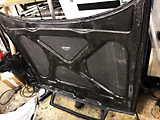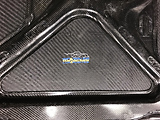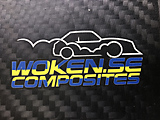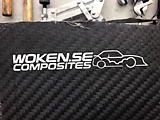 Here it is mounted.