Mälardalen Open #8 at Kjula Dragway!
After helping out at the track during a couple of years the urge for racing took over hand.

I have done some carbon fibre work so it seemed like a good idea to make some for my self.
That was the original intention all along, but now was a good time.
I made a tailgate. It didnt turn out visually as a masterpiece,
but it got really light which was the main intention.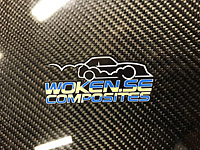 Step one. Making moulds.
The one I had at the race car was lightened beyond recognition and had taken some beat during the years,
so I took the tailgate from my street car, removed the glass and made moulds from that instead.
In the bottom end of the lid there is a list with the text in relief. That was a good challenge.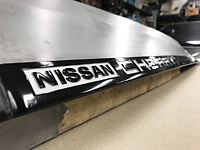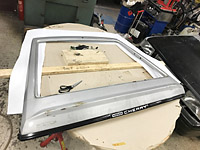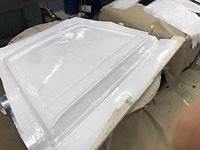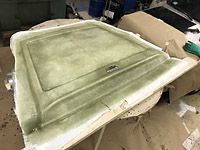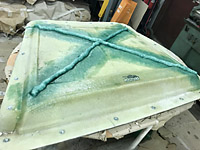 I put my logo in the moulds, mostly for fun.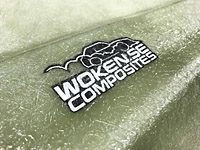 Some quick fix of the mould, then I was ready to go.
For the first (visual) layer i used a sheet of 150cm 200g 3t weave.
It is a big sheet. To put it in the mould in one piece I got two levels of tables
so I can slide the sheet down in to the mould without messing it up too much.
All sheets and consumables in place, then all was put into a vacuum bag.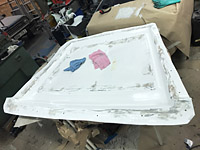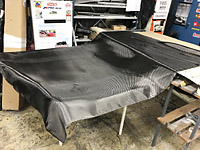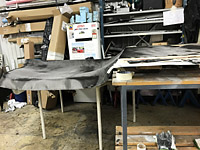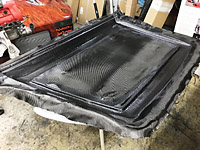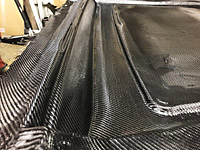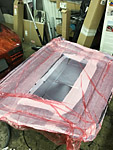 This was a quickie so I made no attempts of getting it perfect directly out of the mould.
If so, allot more work had to be done at the mould.
Instead I grind ed the finished part and coated it with a thin layer of epoxy.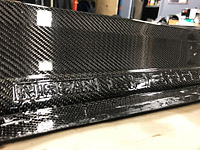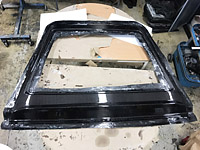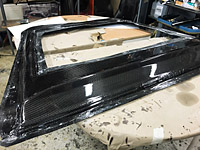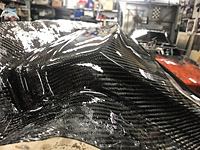 The challenging text in relief turned out pretty okay.
The fitment was perfect apart from the fact I accidentally cut it a bit too much in some places.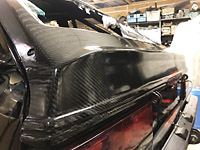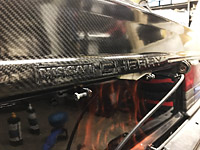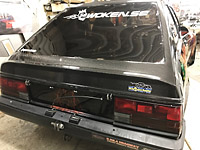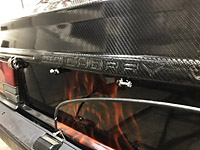 The completed lid weight 3,2kg.
The old lightened weight 5,2kg without the window and a stock was 8kg.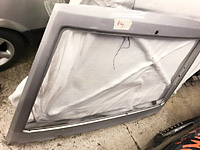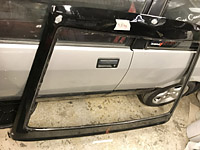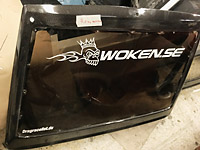 While I were at it I made carbon plates to put under the engine.
The old ones were in steel and I simply put PVA on them and used them as mould.
The stock parts were pretty beaten up, and so got the carbon ones...
...but extremely much lighter.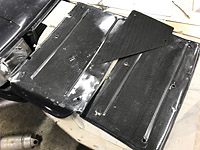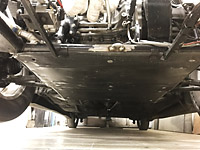 The car needed some good polishing after standing in the shop for a couple of years.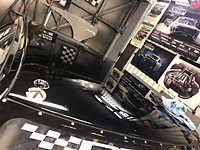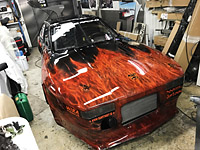 A test burnout outside the garage resulted in an extremely broken gearbox.
I had parts to make one new but went to the scrappers for some more parts.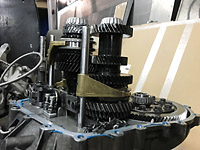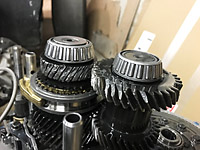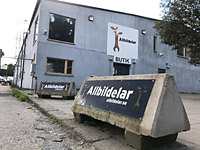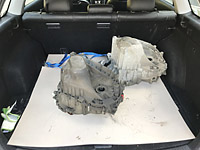 While I were at it I made the clutch like new.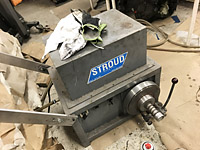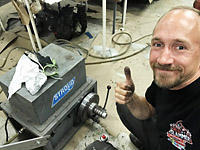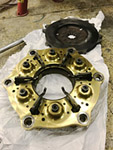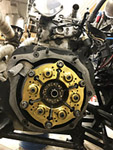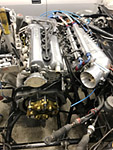 Thursday evening it was time to load the car.
My old VW LT31 have seen better days so I borrowed Olof Anderssons bus.
The Wok was slightly wider than Olofs Chevy 57 but we got it in place.
I was taking care of the pits and all other teams on friday evening prior the race,
so Nalle, Elmer and Henke built our pit and got the car inspected for me.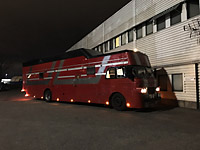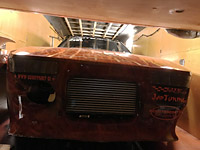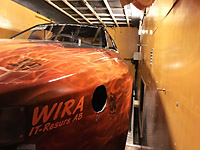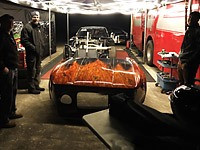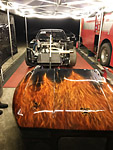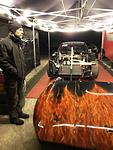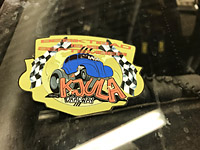 Saturday morning didnt quite start off as we had imagined.
During warm up I only got the car to fire on three cylinders.
It turned out I had broken some rocker arms as the gearbox broke a couple of weeks ago.
I didnt bring any extras and I got a flat tyre on my daily so I borrowed a car and went to the garage for some spare parts.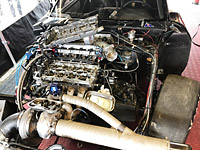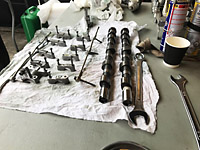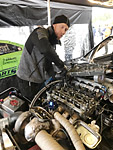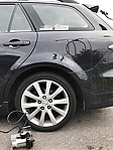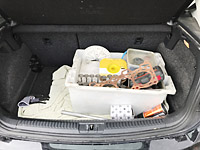 We got the car to run just for the last qualifying round of the day.
The new rockers broke in the burnout so I limped myself into a last position in the list.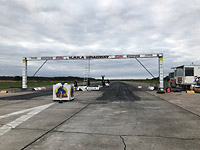 Back in the pits it was obvious that not only new rockers were required.
The valve shafts were bent. Probably they were bent even the first time but in a manner that they looked ok.
Now they did not look okay. Head off and replace four valves.
Good thing we had the bus with good working facilities.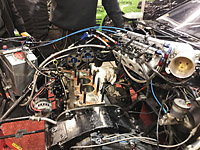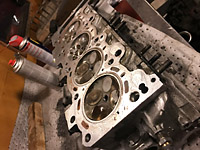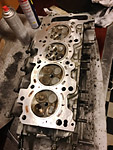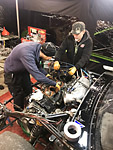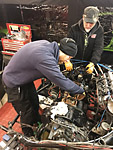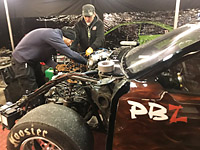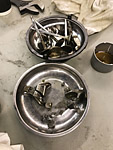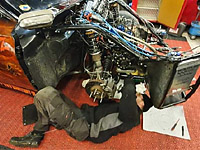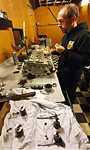 We heard there were some live band playing.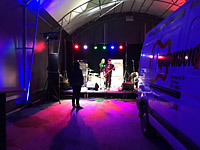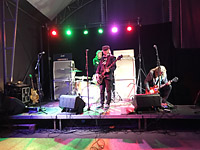 When we were ready with the car, the band had stoped playing and probably was home and asleep.
Annika made us a fantastic salmon dinner. No good photos but we were hungry and tired.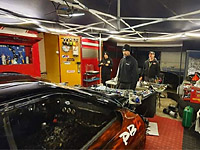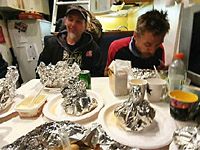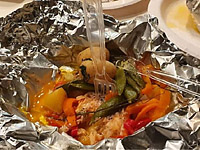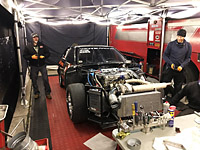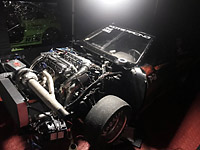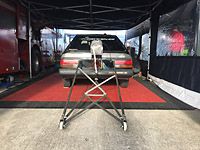 Sunday morning, all seemed fine. The engine sounded and appeared happy.
There were an 18 car field and I was spare no3. However four cars had broke down during qualifying
and already packed and left so I was still in the ladder.
I was to meet Johan Fahlgren in E1 but my hand brake did not work at all.
Since the hand brake is a key function in my staging process I over staged and Johan took an easy win.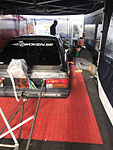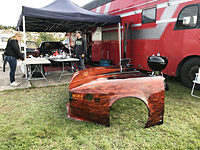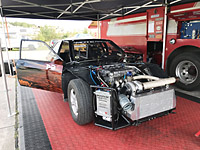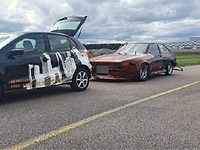 One good thing with the races at Kjula is that if you get eliminated early (or late of you wish)
you can choose to run test n tune runs as much as the eliminations can handle.
We ran two test runs with various results. My tires were some years old,
the launch boost might have ben a bit too wild, the clutch were'nt set up to slip as much as I might have needed.
Basically I had tuned the car like a monky.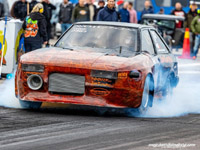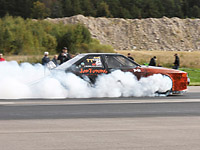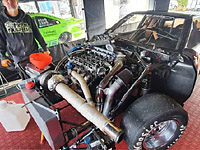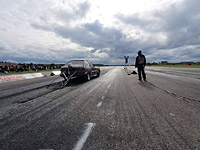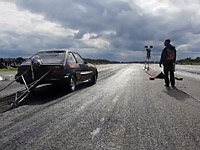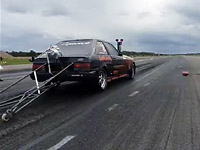 The engine and gearbox seemed to like what we were doing with it.
We tested to cover the intercooler in an attempt to figure out why we were getting confusing EGTs.
The EGTs were not to trust with the intercooler. Better temps but lower speed with it covered.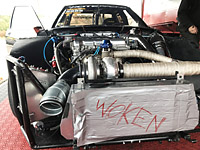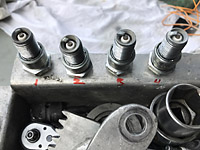 10,03 as best ET and 257kmh at best speed. Not in the same round naturally.
1,73 in 60ft proves I did a really bad job tuning it. Nothing else.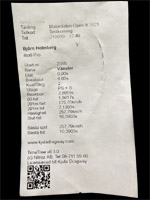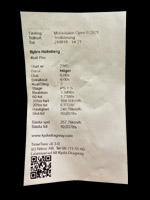 After the race we repaired the tyre on my daily with some "professional" repair kit.
The repair popped as soon as I hit the highway so I had to switch to an emergency spare.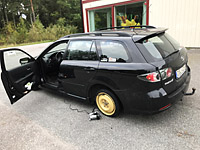 I did make some other carbon fibre parts prior the race but I didnt have time to finalize them
They will be in place for my next track time.