I dont only do carbon fibre...
...I help out at my local track Kjula Dragway too.

MDO #5, Kjula Dragway 2.0 Season opening 29-30 May 2021.
2.0 due to that its basically a brand new track. We have turned around the track,
so now we race from north to south instead of the opposite like we have normally done.
The reason for this is the expansion of the industries around the field.
Our hangar where we had all our cars and stuff had to be removed. We shared that hangar with the
airfields machines so they took most of what used to be our pits for that.

Positive.
The new pit area is bigger and has better electrical infra structure.
All cars will only go in one direction in and through the pits.
The first 140m of the track will be left alone during off season.
When running from the old direction all track had to be
sand blastered off the field after season ending.

Possible minus is that all track is asphalt from this direction.
On the other hand it might be a positive thing to have the same surface all the way.
From the other direction first 200m were concrete, but since it was blastered every year
it started to get rough spots creating new problems.
All marshals sleep in the old (other) end of the field.
The road outside the new gates are more trafficked and the neighbors
complain that they dont like having hundreds race trailers queuing on their road
all afternoon as soon as we are to have a race.
There is less space for car exhibitions during the races.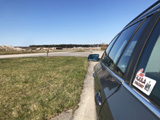 We were a couple of lads and girls working to establish the new pits.
Marcus was a skilled excavator driver (beyond being a mastermind at track prep).
He moved the reception from the old gates to the new and widened the road.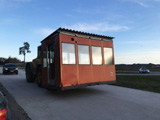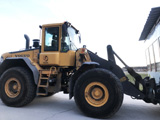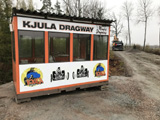 Since I cant drive and excavator at all I built a new trackbite trailer with Martin.
Did some planning of the pit area which classes should be where.
I also made a bunch of winner stickers with this years Anglia (green) and also one for the bikes.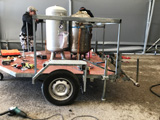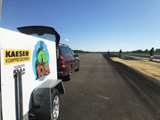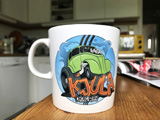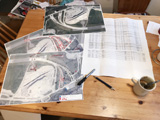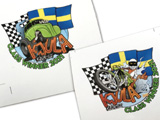 May 29 it was time!
All week prior the race we had free access to the track for prep work.
Unfortunately that week offered the most rain for years.
Despite the enormous amounts of rain the week prior the race,
during the actual race there were nothing coming even close to rain...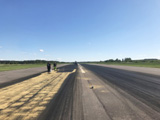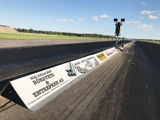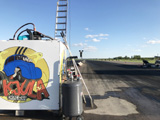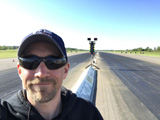 Since I had planned the pit area I welcomed all teams
and showed them their spaces. To my help I had Isabell who got many miles on her bike that day.
As friday turned into saturday I swapped to become class warden for a couple of classes.
That gave me the opportunity to see how my planning turned out IRL.
In some cases it got crowded and some not, but in general it turned out okay.
The weather were at its top of the year and that helped out allot.
Even if everything were not perfect all teams could oversee it thank good.

There were 13 cars in the class 4to6.
Q1 was Kristian Sjöberg running 8,04-275kmh with his Volvo 740.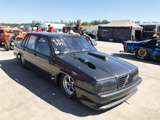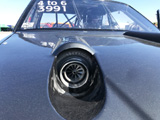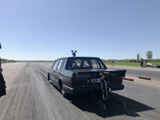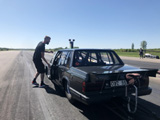 Q2 was Jörgen Andersson running 8,54-205kmh with his BMW powered Opel Kadett called the Kaputt.
(Kaputt is Swedish for broken ish)
His chassis is only legal for 8,5s so I guess he let go of the throttle at 350m ish so he wouldn't break out.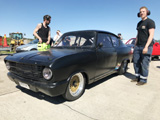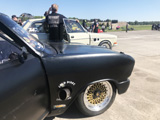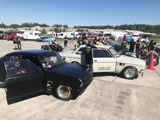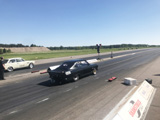 Q3 was Jesper Ojala running 8,74-269kmh in his beautiful Audi urquattro.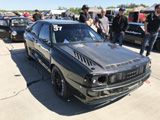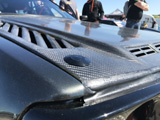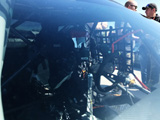 Q4 was Björn Lundin running 8,74-250kmh in his Volvo 242.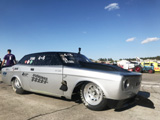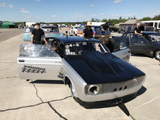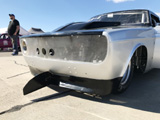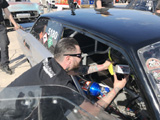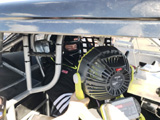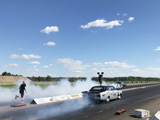 Q5 was Kim Norgren running 8,76-242kmh in his beautiful grey Volvo 142.
At the end of day two (eliminations) Kim got the victory.
We didnt dare to have a big price giving ceremony. All prices and cups were delivered in each pit space.
Big congratulations for victory in the first race at Kjula 2.0!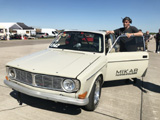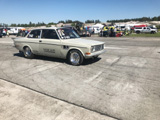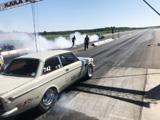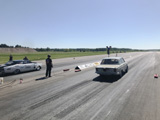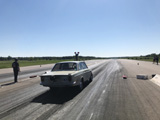 Q6 was Kims brother Tobias Norgren running 9,22-240kmh in his Opel Kadett.
It used to be recognized as a green little machine but due to some wobble last year now its red.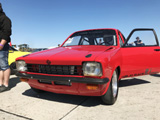 Daniel Lundström became Q5 running 9,32-250kmh.
He came to Kjula with his team from Umeå (some 750km). During qualifying the head gasket blew.
They got hold of a new gasket in Ludvika, some 150km away. They could also flatten the head there.
The team spent most of the night putting the car together but got a rod through the block in saturdays first run.
Thanks to the plates under the engine the track was clear in no time.
Class act!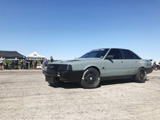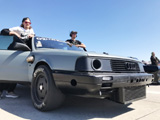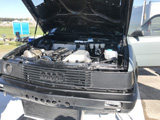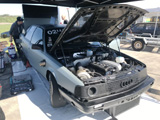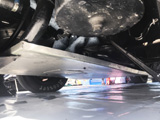 Patrik Österberg got Q8 running 9,77-228kmh in his VW type 3 fastback.
Rasmus Eriksson got Q9 running 10,15-212kmh in his buggy.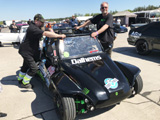 David Tajjan Tärnlund became Q10 running 10,18-244kmh in his Audi S2
that I made carbon hood and carbon trunk for this spring.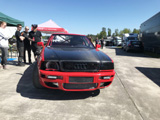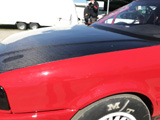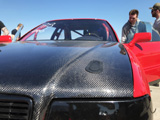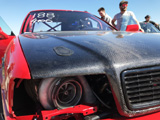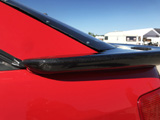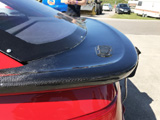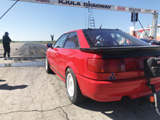 Sandra Hall became Q11 running 10,94-209kmh in her pink BMW.
Shes really a multitasking person running her car, her daughters junior dragster and handling the Kjula facebook pages.
Something happened to her BMW. Probably head gasket so she could not attend to the eliminations.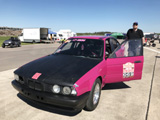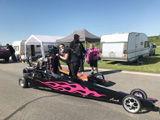 Q12 was Peter Larsen from Denmark running 11,9-182kmh in his Toyota Supra.
It was not that slow for sure but there were something going on in the front end of the car so he didnt dare.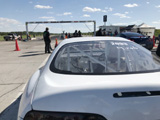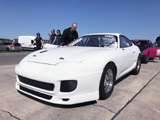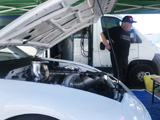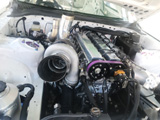 Andreas Arthursson was technically Q13 running 12,13-86kmh.
Mostly because any faster times were deleted due to the stock chassis high breakout.
Must be some kind of record in low speed vs ET.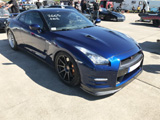 There were obviously more than 4to6 present.
six different car classes and 6 different motor cycle classes.
Some of the cars running ProStreet (7,6 breakout)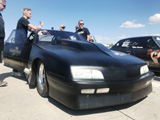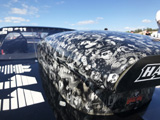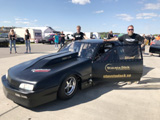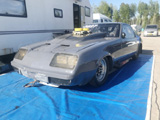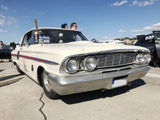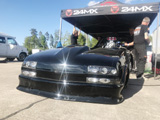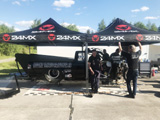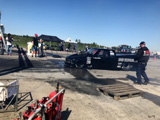 Some of the cars running the class Street (8,6s breakout)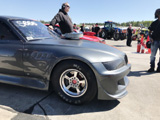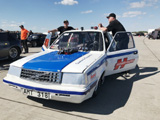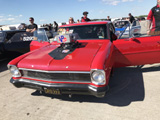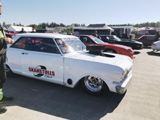 The Vintage cars offers great spirit to the track.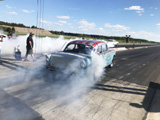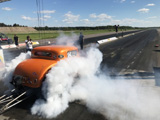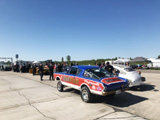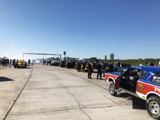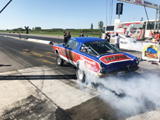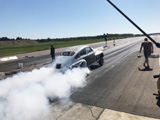 Motor cycles, test n tune and more...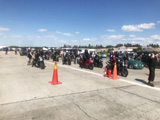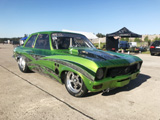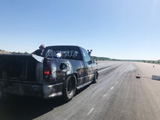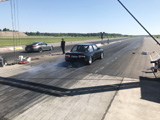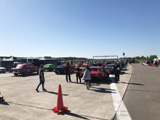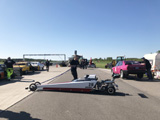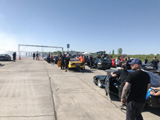 The weather were really fantastic all weekend.
Sunny and close to perfect in all ways. Not even too hot.
I tried to talk to as many teams as I could and I got the impression
that we managed to get the track working good enough. By far.
The track was still not "solid" after the race but this was the season opening...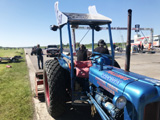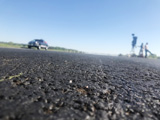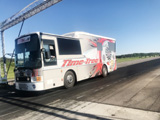 Next race at Kjula is June 12-13.
I will not be present at that race unfortunately.