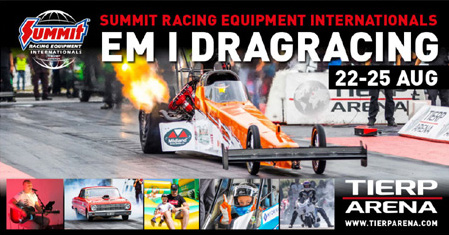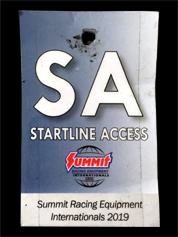 Summit racing equipment internationals - Tierp 22-25 August

Races are more frequent than I have time to update here.
We just had time to stop by the garage one day to look over the engine.
A fuel leak caused the engine to run a bit lean in in E1 at Hockenheim.
Thursday morning we gathered in the garage. Put the engine back together,
loaded the trailer and headed off for Tierp Arena.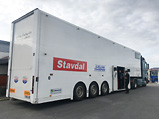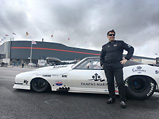 Fridays qualifications offered pretty cold air with lots of oxygen.
Q1 was scheduled 12:50 so there was no rush out of bed.
It rained heavily all night but racing started at set time.
Just as Competition eliminator were to enter the track around 10 it started to rain again.
The track wasnt clear until 15:00. Some motorcycles were first out, then it was our turn around 15:30.

We ran all ok 5,88-394kmh first round out.
That made us second qualifiers.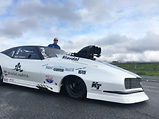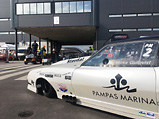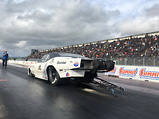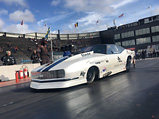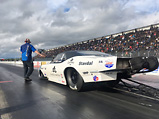 Clock had turned past 19:00 when it was time for Q2.
One could really feel the mist crawling, sun was about to set
and it turned even cooler.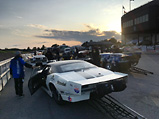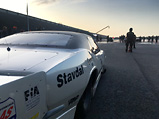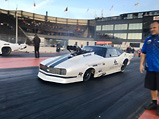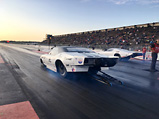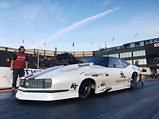 I good guess would be that the track might not be as good as in Q1,
but Micke were able to run 5,90-394kmh.

No improvement in the list, but we sure busted the saying doing a "Gullqvister"
referring to the many times he qualify poor until the last run.
The only one running faster in fridays session was rival Jan Ericsson who ran 5,85 in his first run.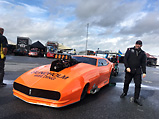 Saturday Q3.
The weather was alot better and more stabile.
Before the first round of FIA Qualifications a moment of silence were held
on the arena to honor the recently deceased TF driver, friend and legend Björn Mårtensson.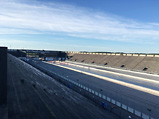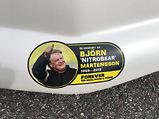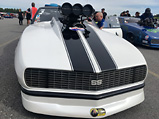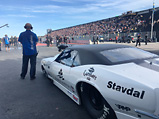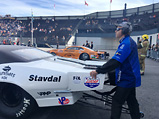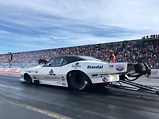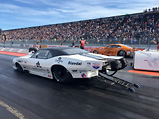 There were some error with the timing equipment as Micke was to get into pre stage.
Both Micke and Jere Rantaniemi had to back out, wait for timing reset and go in again.
Easily a concentration disturber but not any issue for Micke.
0,97 in 60ft but then he got heavy tyreshakes and had to back off.

Jan Ericsson repeated fridays first run with 5,80 and Andreas Arthursson
passed us in the list running 5,85.

Q4.
Since we ran slow in the previous pass we were early out in Q4.
Micke ran 0,96 in 60ft and stopped the clock at 5,8133-399kmh.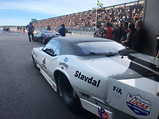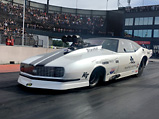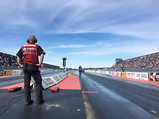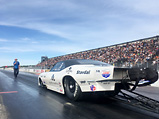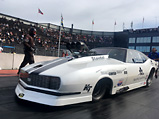 Seven teams ran 5,xx in Q4, but no one did it better.
Jan Ericsson ran 5,8138 so he got two bonus points and we got three
with the smallest of possible margins. He was still no.1 in the list and we were second after Q4.

Q5.
At Tierp arena FIA classes were offered 5 qualifying rounds.
Time was past 19:00 when we were out for our 5th run as sun was setting.
We were last out since we were fastest in the prior run.
We were paired against Jimmy Ålund. Ålund ran 5,86. Micke did 0,96 in 60ft and ran 5,83-398kmh.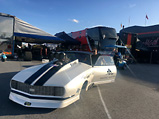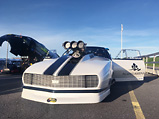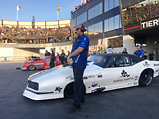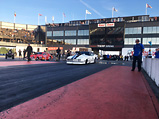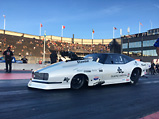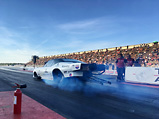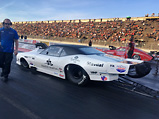 This time I could really see the front wheels lifting as Micke kicked in second gear.
5,83 was the fastest of all cars in Q5 so three bonus points to team Gullqvist.

The evening were spent on general services.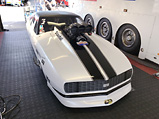 We were on a third spot in the European Championship when we arrived to Tierp.
Jan Ericsson had 56 points and Jimmy Ålund had 30 points advantage to us.
During the qualifyings we got 11 bonus points and 7 points for ending on the second spot in the list.
Jan got 10 bonus points and 11 for being top qualifier so no change there.
Ålund didnt qualify good and got only 2 bonus points and 6 for third place in the list.
Still 58 points behind Jan but only 20 after Ålund.
Early bedtime in team Gullqvist.


The ladder: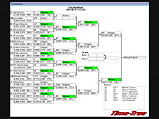 Sunday.
E1.
We were to run against Rolf Simonsson but he were out due to engine problems.
Instead first alternate Stian Rusånes turned in.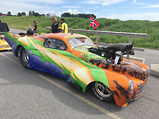 Stian got a lost fire in the burnout. After restart and a second attempt his shutes came out and he was out.
Micke got a bye, and that turned out to be a good thing. All seemed ok with 0,97 in 60ft,
but around 200m the gearbox packed and Micke rolled over the finnish line at 6,91-232kmh.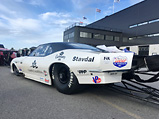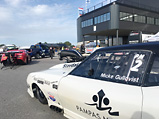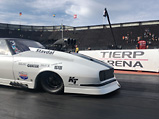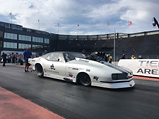 Jimmy Ålund lost traction right at the hit and got beaten by Peter Kunc.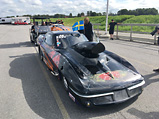 That meant we were side by side with Ålund pointswize.
Jan got a bye in E1 as there were no more alternates.

E2.
We were up against Mats Eriksson in the second round.
Now with a brand newly renovated gearbox.
Last time we met Mats here at Tierp Arena Mats won on a hole shot.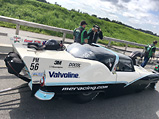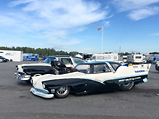 This time was different. To our favour.
Micke had 0,059 RT to Mats 0,1000. Micke stopped the clock at 5,84-398kmh and won by far.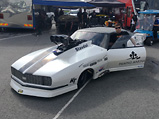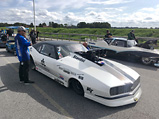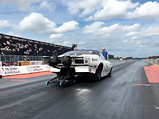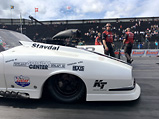 Jan Ericsson were up against Roger Johansson before us,
but he dropped an oil pump belt in the burnout so he had to turn off handing it to Roger.

E3 Semifinals.
Peter Kunc red lit against Jere Rantaniemi in E2 so we were up against Jere.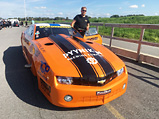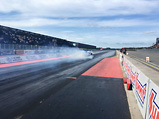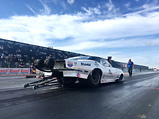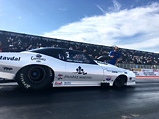 Micke seems to work best under pressure and took the tree with 0,046 to 0,055 in RT.
Micke stopped the clock at 5,84-397 and got the win light. All looked good,
but as we towed the car back to the pit it was clear that we had busted our final gear.
Now it was hard work to change the gear and look over the engine.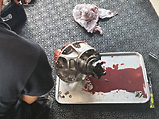 E4 Final.
Final against Roger Johansson.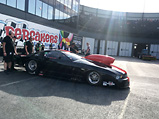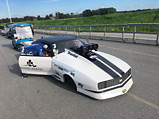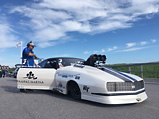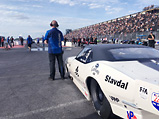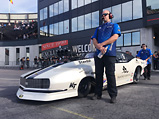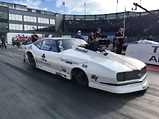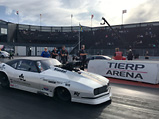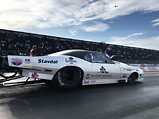 Both drivers are really wanting this win.
Roger beat Micke at the tree with a 0,018 RT against Mickes 0,047,
but Micke took the advantage back at the 60ft hitting it with a 0,97 to Rogers 1,00.
Micke got the win lights with 5,84-398kmh. Again.
Madly consistent to do three 5,84 in a row.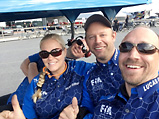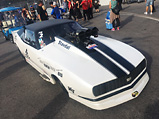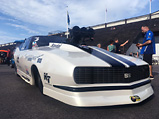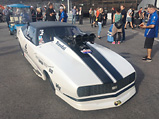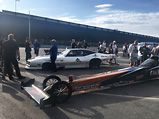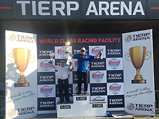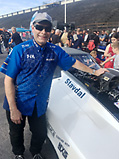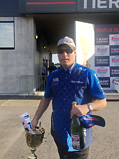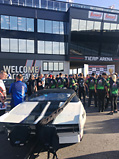 Summary.
We got 128 points at this event. And the golden cup.
Both Jan and Ålund lost early in the eliminations so we took
the lead in the Championship by 4 mare points to Jan Ericsson.
The Championship will be determined in two weeks at Santa Pod.