2019 years European dragracing championship start.
Like always season opens at Santa Pod, England.


Just like last year I got the opportunity to help Micke Gullqvist in Pro Modified.
Me, Kenny Steibert and Fredde "turbo" Westerlind flew with the first flights friday morning
from Skavsta Airport, some 110km from Stockholm. Beside us Lenn Lindell, some mechanics to Andreas Sjödin
and Papa Callin, there were some other travelers on the flight not going to the pod.
I don't know what they were doing there. Like just going to London, like that would do? weird.
We met up with Åsa Johansson at Stansted where we picked up a rental car.
Fredde drove this rental, sitting at the wrong side driving on th wrong side all the way to the track.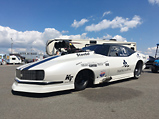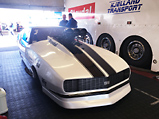 Obvious news for Mickes Camaro is a white pearl wrap, and a vinyl roof with correct texture.
Not so obvious is that the clutch is replaced by a turbine and a driver.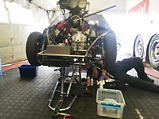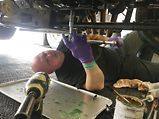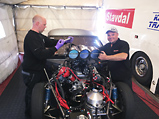 There was an outlaw doorslammer race at the Pod the prior weekend.
Most of the teams were at the site for both events. Micke and the rest of the team were also there.
Micke and the car stayed at the track while the rest of the team went home between.
Switching from clutch to turbine might seem like an easy swap.
It was not. Took Micke and the team all first race to figure it out,
and it wasnt really figured when the main event started either.

My friend Luke Stevenson made an interview with Micke prior to one of the qualifications.
It was transmitted in the live feed some time before we went out on the track.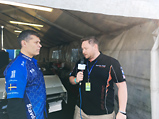 The qualifying were anything but an easy journey to the winners circle.
First round, Micke got into heavy tyreshake right off the line so he had to let go.
Q2 went better but we still hadnt found the window. 6,529 gave us the 17th spot
right after Peter Kunc who ran 6,526 which gave him the bump.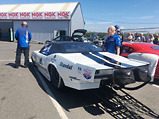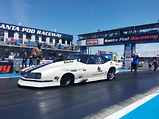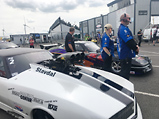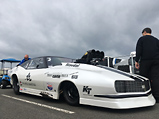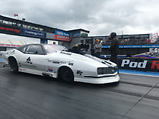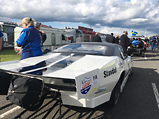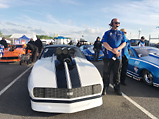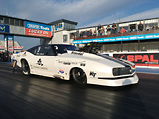 The weather was really English.
Cold, warm, sunny, cloudy, windy and sometimes even rain.
It was nice to have a diesel warmer in the tent in the mornings.
10 minutes after we were called up to the lanes heaven opened up.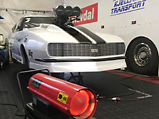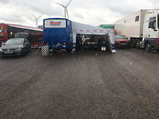 One should never trust the weather forecasts. Especially not at the Pod.
The forecasts for sundays qualifying looked horrible. It looked like we
were going to get one chance. At best. To improve and get into mondays ladder.
We got one shot mid day Sunday. Micke tuned and drove good, getting a 7st spot with 6,006.
It started to rain before everyone in the class had run that round so there were a while
when we didnt know if it would count. If the race is canceled due to rain before the whole field have run,
all runs from that round is cancelled. Fortunately it was just a quick shower. The track was dried
and all in the class got to run so our 6,006 was good.

At the Pod race is on 09-21.
19.30 after numerous delays for rain we got a second qualifying runs.
That was good because now Micke started to figure out what kind of tuning the car liked.
The air and the track was good. Micke ran 5,91. Last year that gave us the no 1 spot.
This year the competition has stepped up and it only gave us the 6th spot.
David Vegter got the no 1 spot with 5,80. Impressive.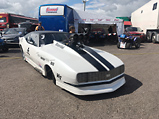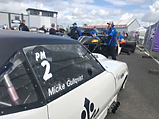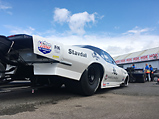 Eliminations monday.
First round was against Nick Davis in a light brown metallic, really nice looking, turbo Mustang.
I didnt manage to capture it on the camera unfortunately. However, he didnt manage to get
his car to run anything. I was to busy looking at Micke repeating his last Q run 5,91 again and winner of that round.
Second round was up against no3 Qualifier Andreas Arthursson with his turbo Chevelle.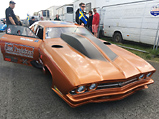 Andreas hit a red light and on top of that he shook his tires wildly. Micke ran 5,96.
Maby he saw Andreas redlight, maby not. However, all rounds are worth running for tuning data.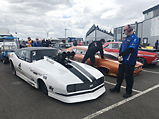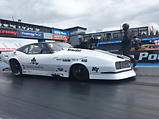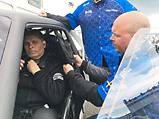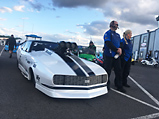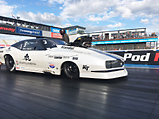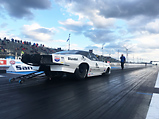 We were to meet Q2 Jan Ericsson (5,84s) in the semifinals but he dropped a sparkplug
and destroyed his engine in the quarter finals so we got a bye.
Micke were eager to get more tuning data. Ran 5,92. Looked alright
and we were up for finals against Mats Eriksson.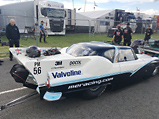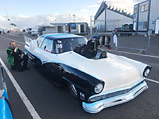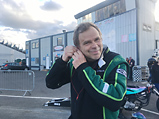 Mats ran 5,97 during qualifying with the new version of the gobblin.
Last year it was gelcoat grey and now it got a really clean looking paint job.
White and black obviously seems to be the colors of 2019.
Adam Flamholc tunes Mats car and one can never know what he's up to.
Unfortunately this time Mats hit the red light.
Micke didnt mind but ran a full pass which resulted in 5,83-245mph.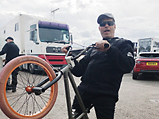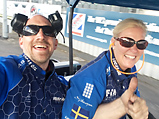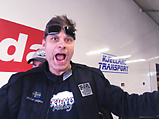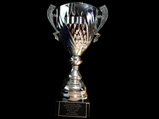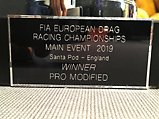 Winner, winner, chicken dinner is something I have heard of,
but here it was vegetarian mashed "meat" and vegetarian chicken.
Most odd.
As Micke was at the price giving ceremony it started to rain like rarely ever seen.

We packed up the kitchen, floor and tools into the trailer.
We put the Camaro and the golf car on the highest points in the tent.
Micke had to get help from some of the remaining teams on tuesday to get the tent down,
and to load the car into the trailer.


---
Jimmy Ålund has a feast in the lanes.
He drives Magnus Old51 and his own Pro Stock car. He won the event in Pro Stock.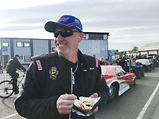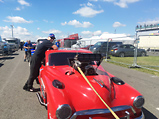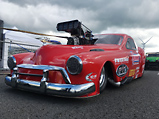 Bengt Ljungdal stretches himself and looks cool.
Not that easy when youre 150cm, he replies...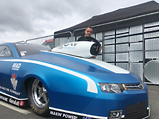 One week prior to the event I got the task to lengthen Peter Kuncs scoop.
Express carbon fibre work, but it looked all ok with some paint.
After sundays qualifying rounds he was outside the ladder on a 21 spot.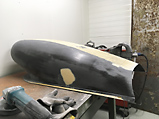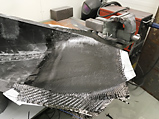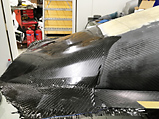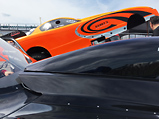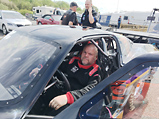 Fredde Fagström really moved a mountain just to be here.
His shop was caught on fire this spring. An amazing job was made by him, his crew and volunteers.
Even though, he destroyed three engines during his first three runs this year.



Marcus Permans shutes dragged his car into the wall after finnish line,
turning his chassis and bodywork to semi scrap.
The plan is that Mats Brag will repair the car for Tierp in a couple of weeks.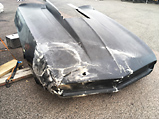 Ida Zetterström with fresh imported and even more freshly repainted Lucky13.
She was Q11 running 7,28 - 194mph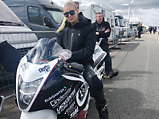 Tyre sacks on a junior dragster.
I dont think I have ever seen that before.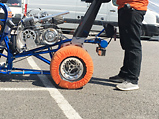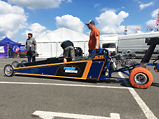 Misc cool/odd stuff at the track: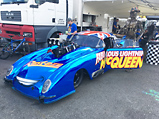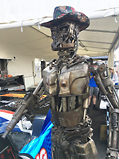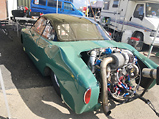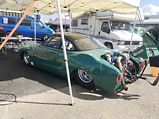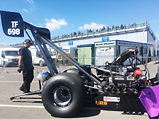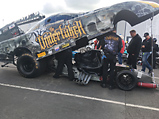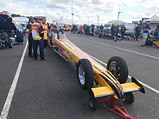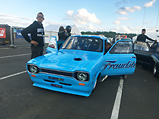 04.00 Tuesday morning we left the track to fly home.