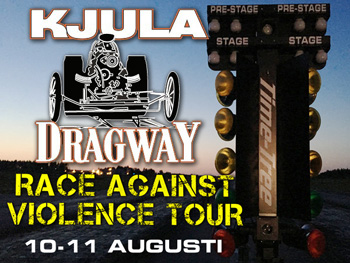 Kjula Dragway, Race against violence tour
10-11 August 2019


I had barely settled home before it was time to head to the next event.
August seems crowded racewize. In a good way.
The idea was that I should help out with the scruteneering on friday night,
and act like a pit marshal the rest of the weekend.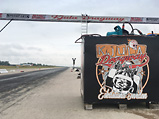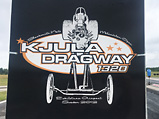 At first me and Charlie went out to the highway nearby to put up some signs.
After that I scrutineered as many cars as I managed until I was needed to put up the scoreboard.
I wasnt hundred procent satisfied with its angle, but the startline was mooved
and the grandstand wasnt in the same place as it usually is.
I think it was okay, even if not perfect.

Fixing big and small things, and time rushed away and it was night in a bit.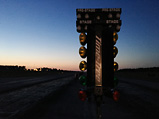 The weather forecasts were telling us to go home.
People on facebook even asked if the event would be canceled due to the forecasts.
The truth is that even how dark the forecasts might look, we usually can race all weekend long.
Kjula airfield is situated in a geological hole. It can rain constantly a couple of miles away,
while there is blue skys at the track all weekend. On the other hand, there might rain constantly
at the track but not a drop a mile away...
...so you never know.

I was pit marshal for the classes Street (BO 10,1) and RealStreet (BO 8,6).
I also assisted the test n tuners witch were some.
Not a single drop of rain on saturday gave everyone who wanted 4-5 runs.
Jerry Hellund should run in 4to6 with his Volvo 740...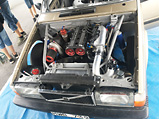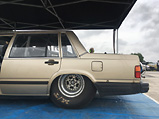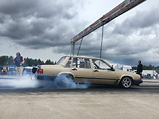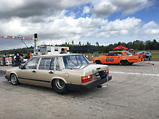 ...but wanted to get a chance to race against his friend Max Wallenberg.
Max turned became no1 qualifier with 8,732.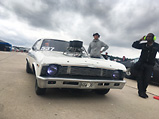 Johan Jörbeck became qualifier no2 running 8,733.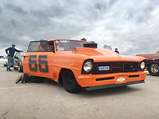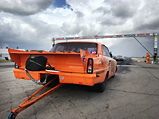 Anders Westerberg didnt get one single run.
His gearbox went on holiday in the first burnout.


Ulf Axelsson became no2 qualifier running 10,28 in RS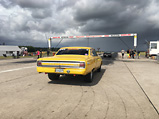 Sandra Hall became no3 qualifier running 10,50 in RS.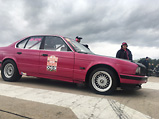 Jonas Henriksson with his white fullsize car
was only running test n tune saturday.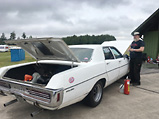 Christoffer Hedlund ran test n tune both days.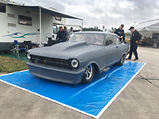 Joakim Cedergren ran 7,51 in test n tune
with his amazingly looking rod.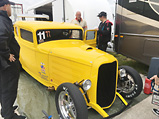 Rickard Olausson whos car I made the fuel tank and tips and trix for,
ran a couple high 11s with his N/A V6 powered Fiesta.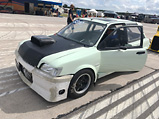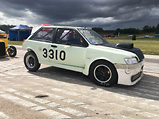 There were no Db limit this weekend, so Niklas Södergren brought his brad powered BMW 2002.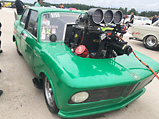 He aborted the first run due to missfirings, but the second got better.
He had reduced the power as much as he could and ran 1,09 in 60ft.
After crossing the finnish line and the additional 600m he was technically off the track.
He stopped the car and jumped out waiting for his team to tow him back.
All of a sudden, a SVDA Dragster appeared from the track with no or little brakes,
and crashed into Niklas car. His wheeliebars are history, the body cracked
and one tube from the dragster bumped so hard in one of Niklas wheels that
the rim got a bulb big as a fist and could not go past the brake caliper.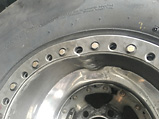 -Really insane and sad.
Both drivers were ok, but sad.

Niklas daughter, Wilma ran with her JR Dragster and became qualifier no1.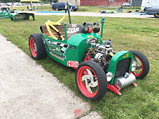 Unfortunately it was finals in most classes to be run when it started to rain like mad.
The race were officially canceled at 14.30.

Qartermile racing and the Granholm family were at the track with their 2seat dragster.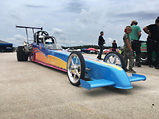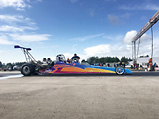 Beside the track there is a car exhibition.
Not many cars due to the weather forecasts but this was a real pearl.
Never seen such a clean mod on a Volvo Amason before.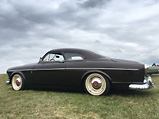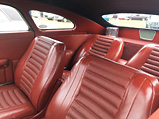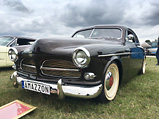 The class 4to6 remained as a last man standing show.
Lots of cars broke. Kristian Sjöberg became no1 qualifier running 8,16 - 276kmh.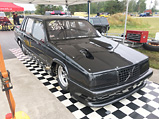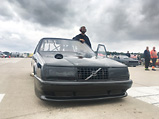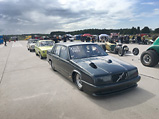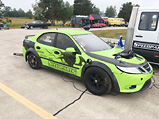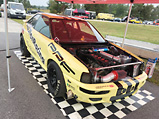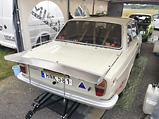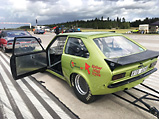 Jimmy Harnesk fought his gremlins, but he didnt win over them this time.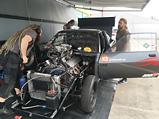 As the rain destroyed the track, many fantastic cars leaved the site.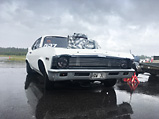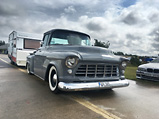 Those who came for test n tune sunday didnt get many runs.
The eliminations are priority and especially when the sky is dark.
Normally there is plenty of room for test n tune as the cars in the eliminations
need cool down time before running there finals, but this time we didnt get that far.
Thats sad.

On our way home from the track later in the evening we stopped for some food
after putting all race stuff away and made an airfield of the track again.
I normally dont belive in fortunecookies but this time I think I have to make an exception.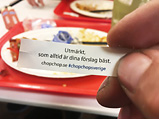 It reads: "Splendid, like always your ideas are the best"

Next weekend I will go to Hockenheim working on Micke Gullqvists Pro Mod.

/Björn