Its ben a right thrue non racing year. After the crash the Juke turned into complete junk.
I got a cerebral haemorrhagee in the crash and the slow recovery made me decide not to attemt any racing.
Several teams were in contact and wanted my skills but since I wasnt shure if I could give 100% I turned everyone down.
Johan Graanqvist asked me for help organizing the races at Kjula, and that fealt more like it.
As working for him it would be easyer to step aside if the burdon would be too big.
I worked as a pit marshall in various levels, by the bleach box and at the technical inspection.
Not at the same time but it was no picnic. I can tell you. Howevver I did my best in any given situation.
That seems to have ben enough. Everyone were pleased. Thank good.

I became 40 this year and there are some expectations of someone getting that old.
I figured a small party in my garage would be sufficiant for the matter.
The house were we have had the magnificant earlier wokfests is teard down (not by us)

Big screen for moovie showing was already there so all I had to do was to make some room.
Pushed the racecars out of the garage and put in som tables and chairs. Basicly.
Filled the fridge with beer, baked som cakes, loaded the coffie machine and we were on.
In the enterance I made a poster for each year racing.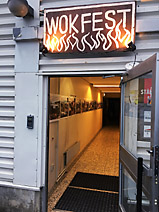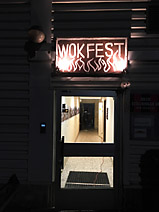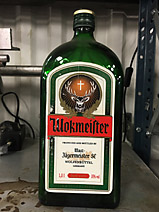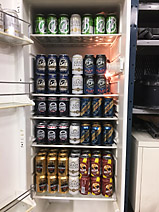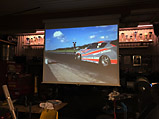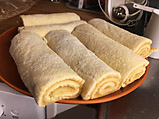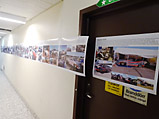 As some kind of recovery I went thrue the engine from the Juke.
It looked ok, so I put it in the Cherry after rebuilding it.
I ordered a new set of gears for the gearbox but hadnt got them yet so no burnouts.
I had the Cherry and the Juke right outside my garage but still inside for display.
Drunkan revving of the Cherry didnt occur prior midnight.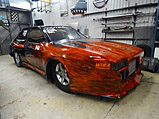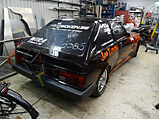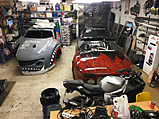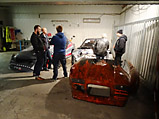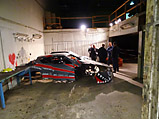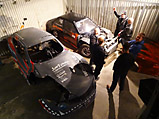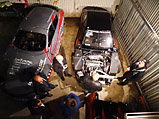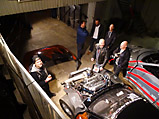 Pocal shelf light, led worms and pin-leds on various machines made the garage look like a club.
Still the hoppsan lådan (whoopsy-box) wasnt too visible next to the fridge.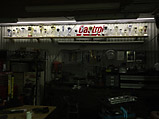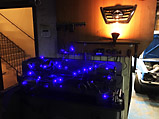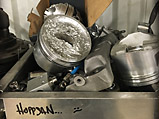 Visibility of the whoopsy-box or not was no matter. There were still over 30 good friends in place.
None mentioned, none forgotten. Race friends/collegies, rescue staff and normal friends.
Some friends 200km away showed up but most local. Around midnight a motorcycle club showed up.
They are newly situated around the corner and wanted to have a look...
All were likely welcome. As always.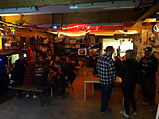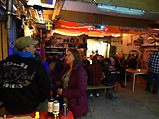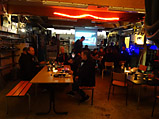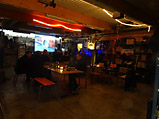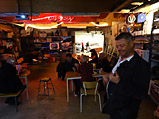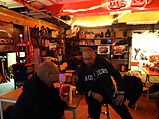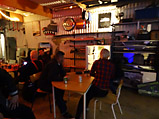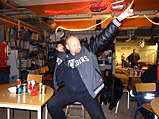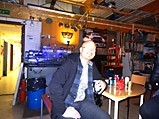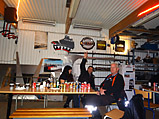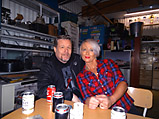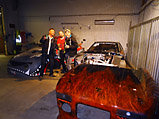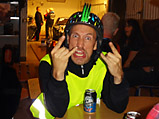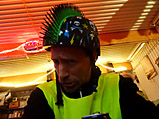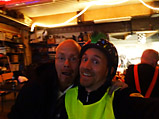 Fantasticly fine presents.
I didnt want more than for you, my old and new friends to show up.
That was a present enough. I feel extremely privileged to have such good friends.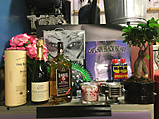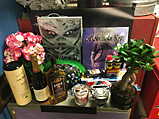 When mention presents. A couple of weeks prior my birthday I sent my HANS support to JP, Simpson sweden,
for exchange of all soft parts and recertifying. To save shipping costs I ordered a helmet and a new jacket
since the old was cut open by paramedics after the crash.
JP sent it freight free.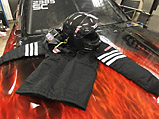 The carbon fibre helmet weighted about 300g less than the white one I crashed with and fits like perfect.
Superb! Everyone should have a chanse to celebrate every once in a while!

Unfortunally some of my friends have lost their struggle agains cancer during the past years.
My father passed away due to a brain tumour 2011 and I went racing the next day. Not for disrespect
but becaus I knew he wanted me to. I dont belive the passed away amongst us will be happier in their graves
if we stop doing what we love. Lets honor them instead, and do what they and we love most.
Lets go racing!