Kjula dragway slight return, night of fire.
27-28 september 2014

Time to gear up and enter warp speed in the garage.
Feels almost like a worn out expression, but in this case it was true.
I rarely use thos kind of terms, but with a valve merged with a piston
and a head looking like its ready for the metal recycling bin
I really had to go the extra mile literally to make it to this race.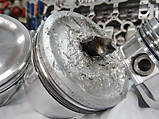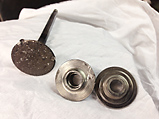 The head needed some major welding done, a new spark plug thread, resurfacing and a remake of the combustion chamber.
Some new valves, rebore of the block and new pistons. To start with.
Fredrik Persson did an awsome job with boring and remake of the head.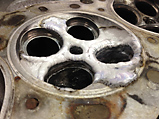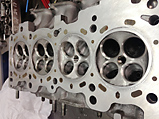 Japtuning sent new bearings and valve seals instantly.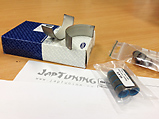 It really appears as if 86,5mm pistons for the SR20 engine is not only the most common on the market.
It also seems as if they are the only pistons in stock nomatter where to look.
Fortunally the Swedish reseller of JE Pistons, Ultra motors could make an express order for me.
Not even JE Piston had bigger bore pistons in stock, but they could make me a set ready for pickup in Sweden in a week.
Ultra had valves for my engine in stock so I could pick them up when I ordered the pistons.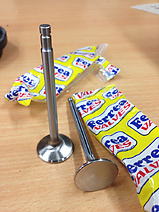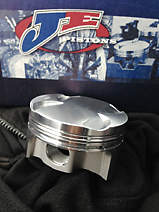 With such super friends and partners I got all parts and machine work done in two weeks.
That left me with four days to put all things back together.
Since one of the reasons for lack of power was the low comp pistons,
I ordered the new 88mm pistons with 10:1 in compression.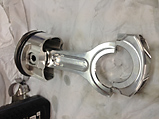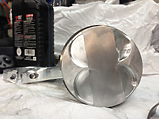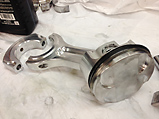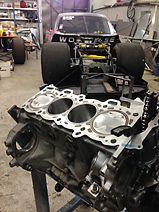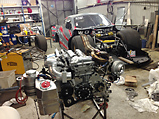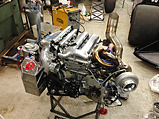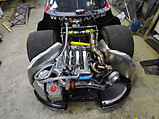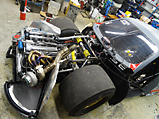 After working like crazy we were race ready one hole day before race.
I were so shocked I started to polish the wheels...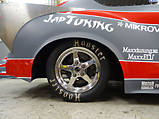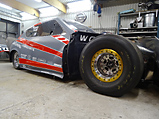 The red caravelle tow truck we have rented from Andreas Eriksson during the season
had gotten parts stolen so it was out of order. Instead we could have a trailer.
The trailer were registered as a heavy one that no one in the team were licensed to run.
Especially not after a 13 ton bus. Luckily the owner of the yellow bus, Mr Rolf Keiser could.
Fealt really nice to have someone that knows how to drive this big ass bus to the track. =)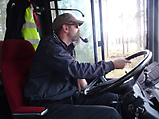 The man behind Kjula Dragway, Pelle Hallström, welcomed us at the track.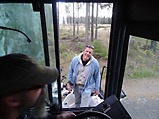 It is possible the height of the bus and the trailer were not aligned in heigt,
but it worked perfectly all the way.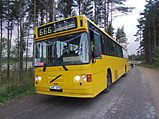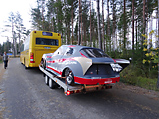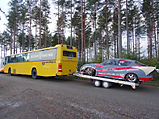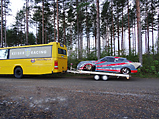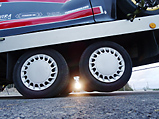 It feels like we are getting the pit to work pretty good now.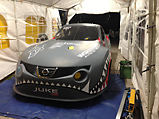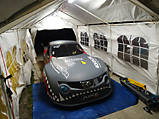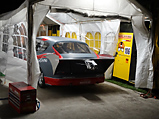 Ther were 18 teams in our class, 4-6 cylinders-class.
The most famous and rock n roll car in the class was Mattias Stenström, running a Volvo S90
powered by a BRAD engine rebuilt with a custom crank and cam making it the largest and most powerful 4 cyl engine in European history.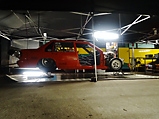 Saturday morning.
There are lots of people wanting me to set a new European record. Me included.
However, we set the weekends target alot lower than that.
Our target was to run both saturday and sunday without breaking parts we could not fix.
The new pistons should increase the engines efficiency. Without having time to put the engine in the dyno,
we had to estimate it. Cross our fingers and make a run for it.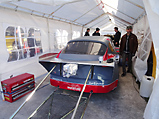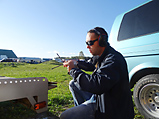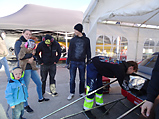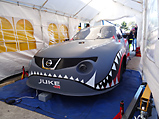 Adding stickers would instantly make the car faster?
True or not, but we added stickers to inform the rescue teams what to expect in case of fire.
We also added a "4th" pefore Fastes FWD in Europe. The Juke isn't even 4th. Rather 7th or 8th,
but me and the team woken.se still are 4th with our old car, the Cherry, that we ran 8,99 back in 2011.
Therefore I see it as legit to say that woken.se is the 4th fastest.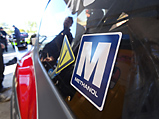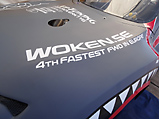 Just as it shoud, the weather was great the last weekend in september.
We rolled up to the staging lanes full of expectation.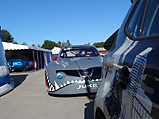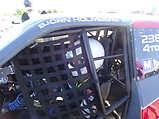 Round one.
Burnout fealt ok, but during the run the engine fealt under powered.
No missfires or crazy stuff. Just poor power.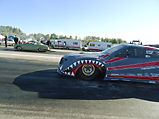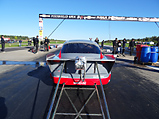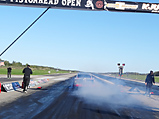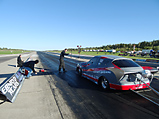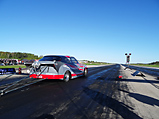 Towing back to the pit to evaluate the run.


The EGT log showed that one cylinder didnt ignite as it should.
That fealt like a reasonable cause since we added pretty much fuel to play it safe.
Perhaps we added just a bit too much? We changed plugs and the engine sounded fresh.
One goal for the weekend was to do a full throttle pass with everything working.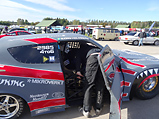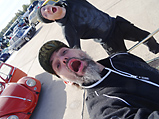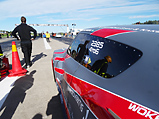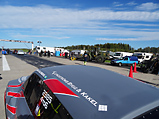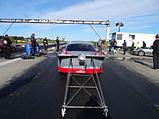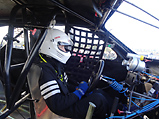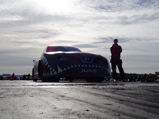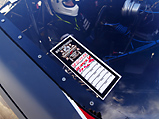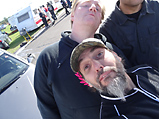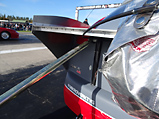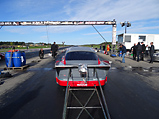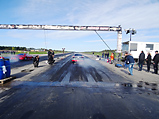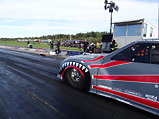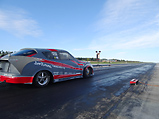 Second run wasn't much better.
I removed some fuel for the second run, but it appeared to need even less fuel.
We lost one cylinder in the second run too wich fealt rather hard to belive since we are running a M&W CDI system charging 500mj.
A test launch with fresh plugs in the pit revealed the problem.
I had added copper washers in the spark plug seats to index the plugs.
The washers were not seated correctly causing combustion gases passing the plug
and popping off the spark plug wires. A set of new washers, a test launch showed that it worked
and we were ready to go. Sometimes the smallest and easyest things causes the biggest issues.
A clutch linkage adjustement and we are good to go.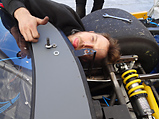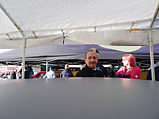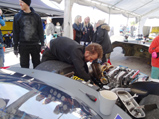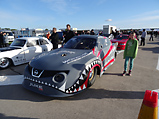 Sealed spark plugs, leaned fuel map, full ECU protection regarding EGT.
It really fealt like this was the run to make history.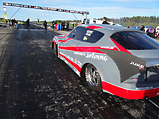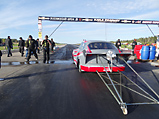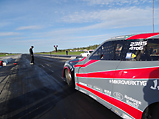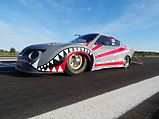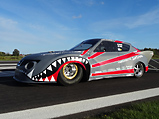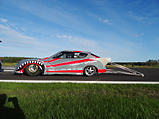 The run fealt OK
Not that I was scared to death, but the car did pretty much what it was supposed to.
I can honestly say 9,12-242kmh was not what we had expected and hoped for.
Not saying it was bad as the seventh pass with a completely new car, but still...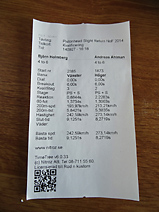 The oil pressure warning light flashed just at the end of the run,
and as the shute deployed a small amount of smoke came from the engine.
I shut it off instantly and we towed the car back to the pit.
I did a short interview for the film while Filip and Elmer found parts of the block and a piston blown off.

Here, Im looking at a part of a rod that were found outside the engine.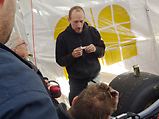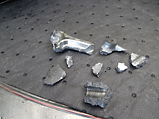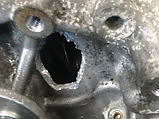 There was nothing we could fix at the track.
We had a hole in the block, at least one rod were in parts, all work and parts for nothing.
We didnt even get to run the eliminations this time either.
Just load the car and go home.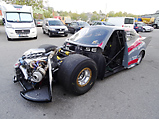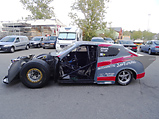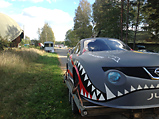 But before loading the car, I loaded a large amount of ethanol into my body.
Carried by beer, drinks or straight up. Not important.
It was a crazy night in the pits trying to forget all work being undone.
The engine were really in bad condition.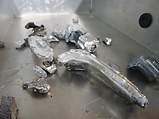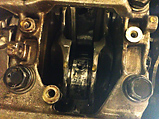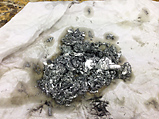 It turned out the spring in the regulator had broke.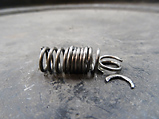 I put in this spring, brand new from morosso, one week prior dyno this summer.
NOT happy!

Now we will have to see whats possible to save from this piece of junk.