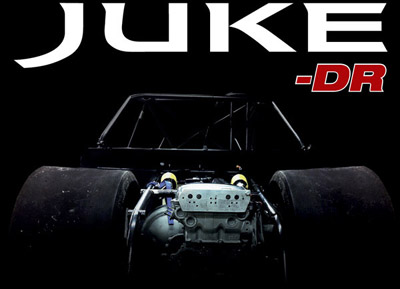 After several years we all got verry tired of fixing gearboxes.
We fealt we had to do something radical about it.
Not nescesery the easyest, as long as it was the correct and coolest way.
We figured a Liberty 5speed gearbox with airshifter would probably be the coolest way to go.
A liberty gearbox more or less requires the engine to be in a transverse direction.
With that in mind there were basicly only two ways to do it.
Cut up the fully functionally Cherry or get a new Chassis to work it out on.

Since everybody is talking about the ecenomic crisis in Europe,
we just welcomed them to our standard level of living and bought a new chassis.
Not a brand new though. (we are nor rich or famous).
Robert Uhr (running 9,54 FWD) wanted to sell his chassie and have a regular family instead,
wich suited us perfect. It's a CrMo Chassie built by BARS in Norrköping, Sweden.
BARS is know for building cars like multiple European ProMod champion Fast Freds pickup.

An early morning outside our garage ready to pick up the chassis.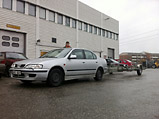 Robert who was a Saab enthusiast had a Saab cover on the chassis,
but we claimed a big discount so he got to keep the body.
We want to have a Nissan body so we resolute lifted the body off
before we loaded it to our trailer and left Borlänge.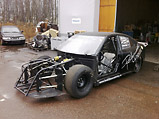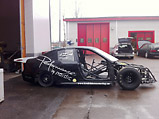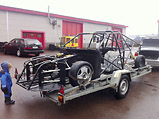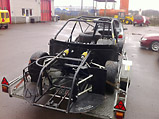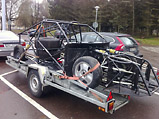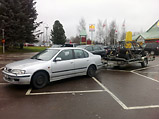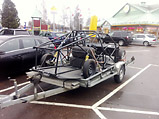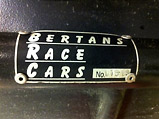 As we came back to our garage the producion team from motorkanalen.tv were already in place
ready to document the arrival. Please visit their website to view the documentary under the menu "Filmarkiv"

The day after we started with a massive brainstorming at once.
First of all we removed the floorpans to get a closer look.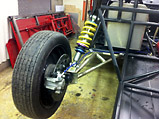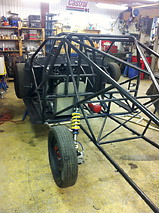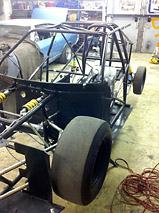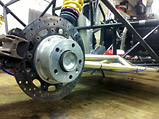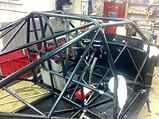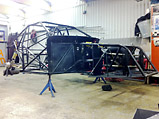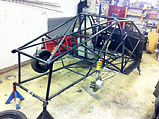 The spontaniuos feeling was that it was verry verry light weight.
Putting the chassis on jack stands didnt include a jack anymore. Sweet.

We borrowed a Ford 9" axle as a mockup.
Put in an old blewn block to have a look and feel.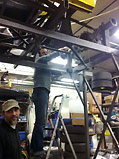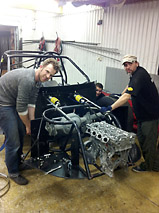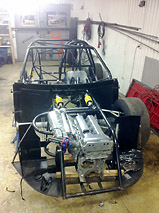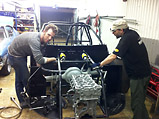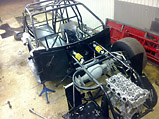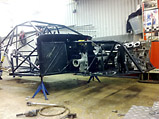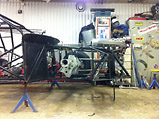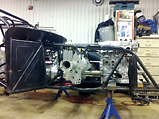 We also put in the liberty gearbox to see werther our ideas were fantasies or possible.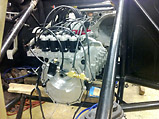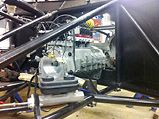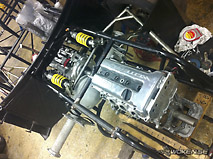 They were by all means possible, but they required verry large wheels.
We got a set of 33x16,5" tyres to try it out.
At first they fealt insane, but after a couple of days they fealt pretty good.
Looks rather wierd, but thats what FWD Dragracing is all about isnt it?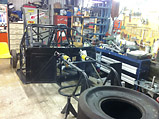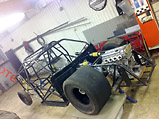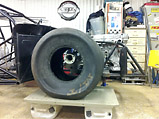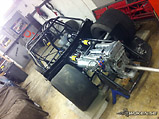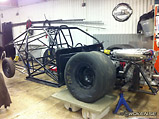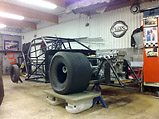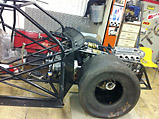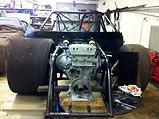 motorkanalen.tv returned to make more interviews with the crew
to get a more complete overview of the team, how we work and why.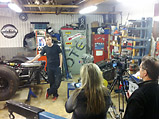 The week after the big collecting raid started off.
I went 320km to buy a bellhousing amongst other things.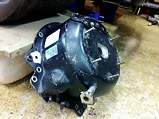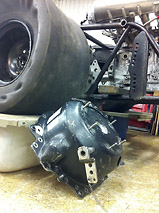 Lots and lots of work and money is yet to be spent,
but we have already started our 2013 season.
Target is set to make it raceable as soon as possible
and that means racing 2013.

We will make a glassfibre body of a Nissan Juke,
then the engien have to be updated to run methanol.
At this stage there is 15cm (6") of snow outside the garage,
but we know by experience the winter tends to be too short in some cases...
...this is one of them. =)

Ill keep you posted.
/Bjorn