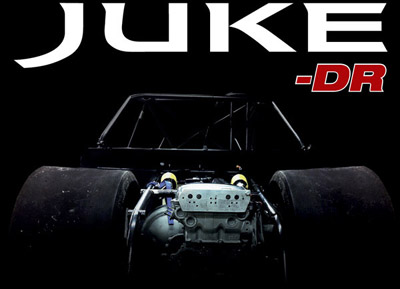 Summary August-December 2013.

Yea, I know.
I sayed I should keep you updated.
That went...
...superb?
Sorry. ;)

Here is a short summary of whats ben going on during August-December 2013.
It was not my intention to keep the information from you,
but as the build up goes on it sometimes feels hard to find the time to update the website.
Most accurate updates are published on the facebook-page.
Its a combination of lazyness and conviniency, since its so easy to just
push up some info in there. Here, I have to really engage myselfe into it.
The backside of facebook is obviously that news only tends to be news for a couple of days.
After that you cant find the info even if you know where to look.
Thats where this website is so powerful. All info here is easily found
for as long as I pay for the web hotel.

Thos who know me in person knows that Im a collector so the info found here,
will probably be accessably for a long time in the future...


That was some explanation.
Now to the essentials.
How's it going? Whats the status? when will the car be race ready?
As soon as I have sat my foot at a drag competition this summer,
people come to me and ask those questions. Sometimes it feels just like Im
an ansering mashine repeating the same ansers again and again,
but the people asking are really qurious. They want to know because they care.
Thats sweet. Its easy to forget sometimes, but thats the thing that makes me think its all worth it.


From the point where the car looks almost ready, there are usually a couple of thousands of hours left
untill it can actually be run. This is not an exeption.

As seen earlier the car finally stod on its own wheels.
It sure did, but thats pretty much it. Still needed steering.
Currie supported a solution including a 14mm steel pitman arms with 8mm support brackets.
I had something more neat in mind...

A new pitman arm was designed and sent for whater-jet cut.
The parts fit perfect. I just had to hammer the puzzel together and weld it.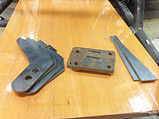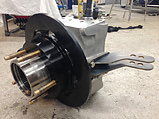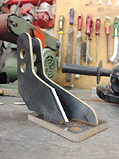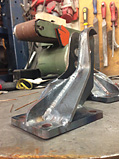 During the qualifications of the European championship at Tierp Arena I was stuck at work.
Lucky me, having a two screen system so I could stream the event on one screen all day
thanks to the superb service of Smart-TV in HD-resolution.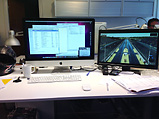 Fuel pump and oil pump neatly fitted in the engine bracket.
They will share belt. The idea is that if the belt fails and doesnt drive the oil pump,
also the fuel pump will too and hopefully save the engine from severe damage.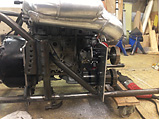 As the drive shafts from Currie arrived, I got so happy I took a selfie with them.
The shafts are 35 splined and carry billet 4340 yokes, the strongest to be found.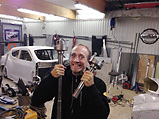 Here are some pics of when the car was put down on its wheels.
The news so much attention the biggest car magazine in Sweden, Bilsport published an article about the news.
We bought the chassie as a rolling one, but we have since then removed and built ut a complete new front end.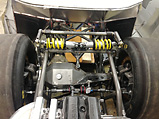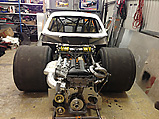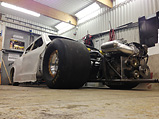 It started to be engine-time. In the early stage we thougt it was easiest to just do a simple rebuild
and use the old engine. But time made us thenk again. Running on methanol fealt cool but that will
demand a stiff bottom end. Aluminium rods fealt like a good idea, and Japtuning were not holding their breath for long.
Soon a set of neat rods and pistons arrived.
Some say a nice sun set can get them to get tears in their eyes.
The contents of this package however would make Chuck Norris to baby cry instantly.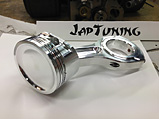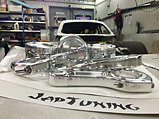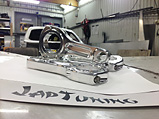 After days of no sight Filip made a rear wing in only two days.
The man is just plain insane.
But he did the job pretty good, dont you agree?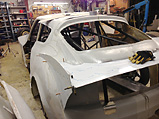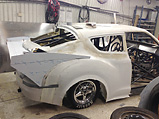 Late October some people for some reason selebrate halloween.
I done know why, but without caring why or how I made a greeting card.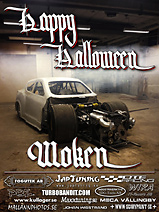 I bought a 3 galon fuel cell from Summit Racing.
Pressure tested? Shure, but did it fit?
Probably in the trunk of a Chevy Nova, but that was not the case here.
In my case it did not fit at all. A few days later it did fit just perfectly benieth the intake
hanging in the engine plate. The idea is that no hoses should be nesescary to be remooved in case
we need to take the engine out. I want to be able to remoove the engine and all tanks in one package.
Not that I belive the engine run on methanol will ever cause me any troublems but its nice to be able to... =)

The third is made by Filip and is a crank case vent tank.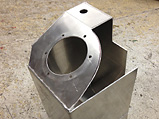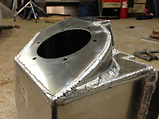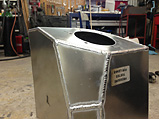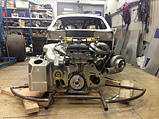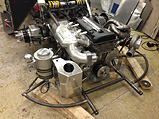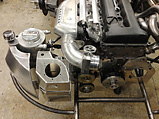 The sump ended up in a funny story.
Filip welded a stock sump preparing it to become a dry sump pan.
After welding it he milled it flat. Then I installed the conections for the dry sump tank.
That made the poor piece of aluminium so skew it was not possible to mill it true again.
A brand new sump was made from scratch instead. It got a bit skew too, but it was millable...
As I had the TIG set up for alloy I replaced the conectors in the dry sump tank to female AN12
so I could use some sensable filters.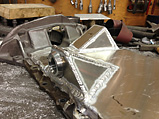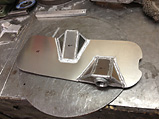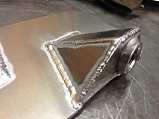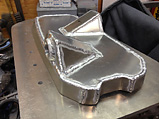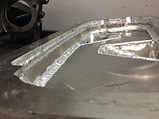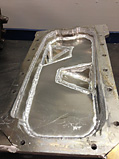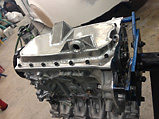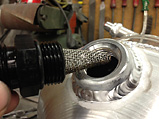 Suddenly christmas was soon.
In sweden we have a tradition of making cokies.
I made some custom cokies and sent some christmas cards.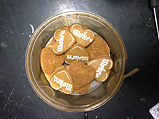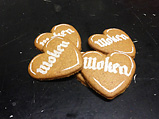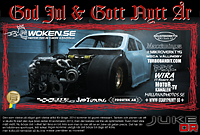 Made a symbolic advent candlestick from the fuel and oil system.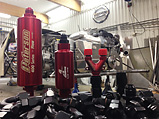 Made an 4" exhaust system from parts falling off a bus.
Not as straight as on the Cherry, but as usual this car is a bit more advanced.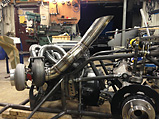 December 19 I was sitting at work only having the companys christmas party in mind,
Tom called at 9AM. I got a bad feeling as soon as I saw his number in my display,
and my feeling was not failing me. He was at the garage, and he found a car halfway thrue the entrance.
Some fancy fuckers had the currage to steal a car and run it into our garage.
Luckily they were obviosly amatures and they ran away as soon as the alarm were set off.
Nothing was stolen, but their entrance messed ut the doors to the car pretty badly.
They were leaning to the rear of the Juke and when the bastards drove thrue the doorway with their fresh stolen car
the juke doors got screwed in between the doorway and the juke.

Apart from that nothing were broken or stolen.

Our alarm had failed to send its text messages as it should due to a broken SIM card.
It is now fixed and we have put up a serious video servalance system.
If it happens again, we will see if we call the cops or some less scrupolous organisation.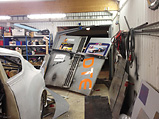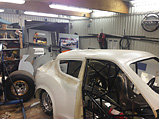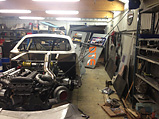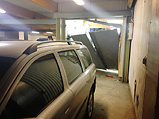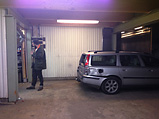 The christmas party I was looking forward to had to carry on without my prescence.
We made a new doorway in 50x50mm steel beams and dressed it with 2mm steel plates.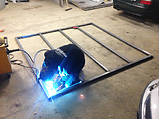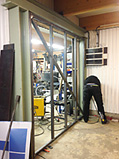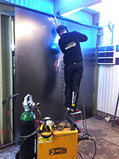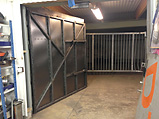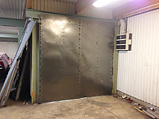 For extra car break in protection we cut down an old drilling mashine
that we nowdays rev down thrue the floor.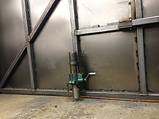 If any fool would try anything similar again it will for shure become a viral video on youtube.


For some reason I feel the winters are just getting shorter and shorter.
Especially when trying to build a brand new car.
The plan was to at least get a test run 2013, but it appears as if we will have to wait until 2014 with that.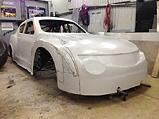 So whats left?
The engine have to be put together and dynoed.
The transmission behind the gearbox have to be built,
some prop shafts, paint, windows, pedals, finaling the welding of the chassie,
electrical system and probably some more stuff I forgot about...

...so there are a few steps left until we can take it for a test drive.
We are working really hard so hopefully all things will fall into place eventually.

Stay tuned.